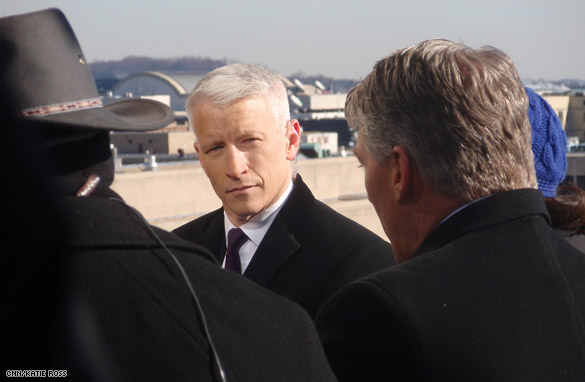 Kay Jones
Editorial Producer
Day 2 of our DC coverage is starting out slow for Team 360, since Anderson isn't on air until 2pm. The weather isn't as brutal today, but it's still cold.
The Newseum is bustling with the CNN team, since John King's new show, State of the Union with John King, debuted today from the rooftop set.
Yesterday, a lot of you wrote in asking about the color purple. No, not the movie, but why Anderson, Wolf and Soledad had on purple. It was a stroke of coincidence, that's all. I tried to get Anderson to admit to calling Wolf before boarding the plane yesterday and discussing the wardrobe choices for the weekend. He promises it didn't happen, so I have to take him at his word. I'm still holding out for a slip up, where Anderson admits to texting Wolf that Saturday is "purple day."
Also, we are trying to convince him to put on a hat, earmuffs, a scarf, something. But he is still responding with an "I'm OK." But I will still bug him until we leave. If I have any luck, you'll see it on 360. 🙂
Cheers for now, as it's time to get ready for more CNN coverage of Inauguration weekend.
__________________________________
UPDATE 6:32pm. ET
Sorry it's taken so long to update, but here's what happened today:
We wanted to get to the Lincoln Memorial so that Anderson could interview the crowds. Well, DC traffic didn't cooperate, so we ended up at our location in the mall area. They weren't prepared for us, but the crew guys busted it and had us up and running in a few short minutes.
When the crowds realized who was there, they went nuts. But it was fun being around everyone, and Anderson got some great interviews.
I did get him to wear gloves but still no hat or scarf. Fortunately it wasn't as bitter cold today but I do think he'll need a shoe shine since it was so dusty out there!
He's now prepping for tonight's show, and I'm heading to one of the many parties in town. Hopefully I will have some photos to show on Monday to everyone as well as some great stories.