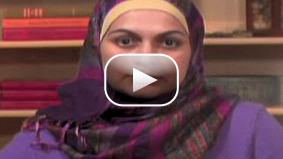 CNN's Don Lemon talks with Palestinian journalist Laila El-Haddad and her father about what it's like on the inside of Gaza.
Laila El-Haddad is a Palestinian living in Durham, NC. Her family lives in Gaza City and she communicates with her father, Moussa El-Haddad, a retired physician who lives in Gaza City, on Skype.
Laila El-Haddad is a journalist and keeps a blog, which she updates frequently with news from her father.
____________________________
Sunday, January 4
He is out on his balcony. It is 2am.
I call them every hour; sometimes every few minutes when I see renewed bombardment on my television. Sometimes he calls me for assurance:
"What's going on? what's going ?" he repeats in a weary, hypnotic tone.
"It just felt like they bombed our street from the inside out. I can't see anything. I don't know what's happening. What's the news saying?" he asks frantically, desperate for any morsel of information that can make sense of the terror being wrought upon them.