Octavia Nasr
CNN Arab Affairs Editor
It all began with a shoe, the ultimate insult in the Arab world. What followed was a reaction of major proportions, reported on Arab media, discussed on Arab streets, and in chat rooms and message boards across the internet.
The internet is buzzing with several shoe-throwing games and comments in Arabic cheering on the shoe thrower. Special websites have been set up, asking people to show their support for the man "who dared" - as one website describes the Iraqi reporter who threw his pair of shoes at the US president. And a FaceBook group in solidarity - not with the reporter - but his shoe, is drawing thousands of supporters.
But not everyone is cheering for the shoe-thrower. While most callers to Al-Baghdadiya, the shoe-thrower's employer, hailed him as a national hero, critical voices made it to air as well.
A caller by the name of Nasseem Mansour told the Baghdadiya anchor, "This man abused his role as a reporter and insulted the entire journalism profession. His meaningless act was carried out at the expense of the Iraqi people. Only Iraq loses as a result."
Media in Iraq and the rest of the Arab world are covering the story from all angles, with guests, anchors and reporters, not sure what to make of this unusual news story. Perhaps political cartoons explain the sentiment best:
In Saudi Arabia's Al-Wattan newspaper, a political cartoon shows Bush entering the history books with the heavy burden of a shoe while US tanks burn in the distance.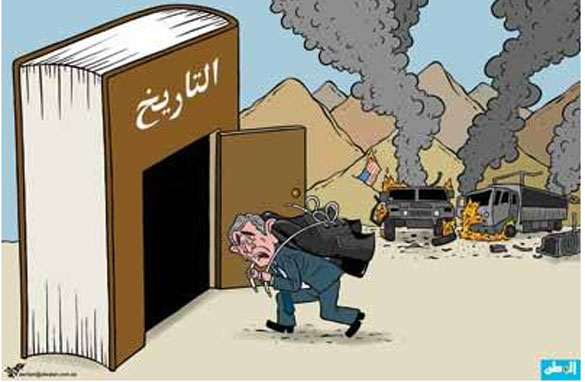 From Qatar, Al-Wattan's political cartoon has a sign asking reporters to leave their shoes outside the briefing room.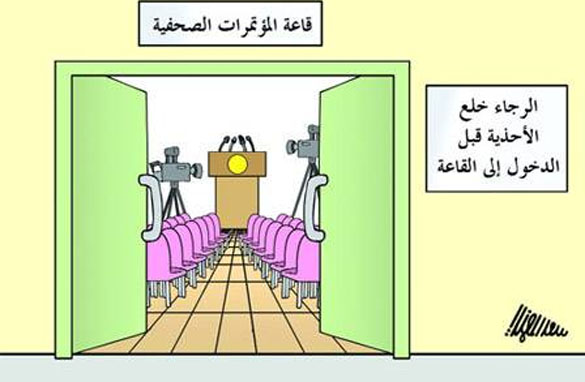 From Lebanon's Annahar, two simple words, printed on the sole of a pair of worn shoes. summarize the end of Mr. Bush's era.