[cnn-photo-caption image=http://i2.cdn.turner.com/cnn/2008/CRIME/12/05/oj.simpson.sentencing/art.closings.jpg]
Paul Vercammen
CNN Senior Producer
Today at 9a PT (noon ET) Sentencing in the O.J. Simpson trial begins
On October 3, a jury convicted Simpson, 61, and co-defendant Clarence "C.J." Stewart of 12 charges, including conspiracy to commit a crime, robbery, assault and kidnapping with a deadly weapon.
Their convictions stem from a September 13, 2007, fracas at the Palace Station Hotel and Casino in Las Vegas. Prosecutors alleged that Simpson led a group of men who used threats, guns and force to take sports memorabilia from dealers Bruce Fromong and Al Beardsley.
Length estimated: one to two hours
Courtroom insiders expect closer to one hour as Judge Glass stays true to her no-nonsense form.
Besides defense and prosecution lawyers, another expected speaker is former prosecution witness and alleged victim Bruce Fromong.
In this bizarre tale of Men Behaving Badly, memorabilia dealer Fromong will testify FOR Simpson, saying the crime does not warrant a long sentence.
The prosecution will call no one.
Simpson for now is not expected to speak, unless asked to by the judge.
Judge Jackie Glass is expected to be tough on Simpson. There was palpable tension between Glass and the defense team all trial long. Glass has called Simpson arrogant and cut him zero slack in his legal proceedings.
Glass has tremendous leeway under Nevada State law to impose a variety of senteces ranging from eligible for parole in six years (according to several sources) to life in prison.
Pay very close attention to when eligible for parole. Of course parole eligibility as with most state prisons requires good behavior, work in prison and in Nevada some sort of "Merit" bonus to get to that parole hearing as fast as possible.
Whatever the sentence, Simpson will be taken out of the courtroom and then through a tunnel back to his cell in the Clark County Jail.
One Prison source says a likely scenario is in a few days, Simpson would be transported by bus the the High Desert State Prison 45 mins north of Las Vegas.
Simpson could stay at High Desert for the rest of his sentence or eventually wind up in facilities in Ely or Carson city or elsewhere.
It is not yet known if Simpson will be put in protective custody.
Brent Bryson will most likely speak for Simpson co-defendant and one time golfing buddy Clarence "C.J. Stewart."
Bryson is fiery and was himself acquitted of manslaughter in the killing of an attacker in. Wyoming bar fight in the 1980s. (See past piece on CNN dot com for more)
Stewart may speak for himself.
Fred and Kim Goldman will attend the sentencing and are expected to read a brief statement after.
The prosecution will lift it"s ban on commenting and break it's silence in a presser one hour after the end of sentencing.
OJ lawyers plan to appeal.
Oh, and with OJ, expect the unexpected
______________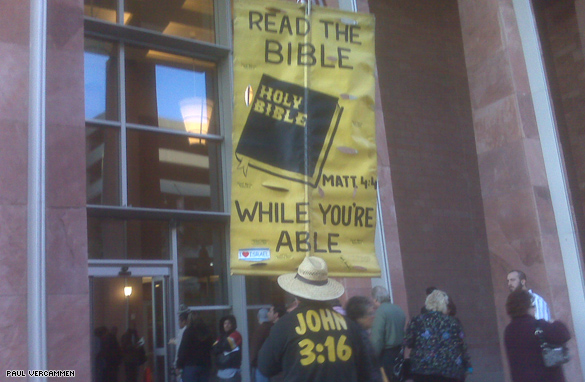 A heckler with a booming voice holding a "read the bible" banner blasted O.J. Simpson this morning outside the courthouse, where the former football star will be sentenced.
The man screamed "O.J., prison is not the problem.  Prison is a vacation compared to hell, where you will burn for killing your wife (Nicole Brown Simpson."
Simpson was convicted in Las Vegas in October on 12 crimminal counts including armed robbery and kidnapping for masterminding a raid of sports memorabilia in a hotel room.