David M. Reisner
AC360° Digital Producer
Thanksgiving marks the busiest travel period of the year as people take planes, trains, and automobiles to visit loved ones on every corner of this nation.
Others take the shuttle…the space shuttle that is.
I present to you Thanksgiving 2008 – From Outer Space:
We have a seasonal medley of Smoked Turkey, green beans and mushrooms, candied yams, corn bread stuffing, a spot of tea, and cran-apple dish for desert! (that's the stuff on the right)
For astronauts aboard the space shuttle 'Endeavour' this is the meal they will sit down to this evening… OK, well, they won't be sitting – no fancy place-settings or designated seats here. Just a bunch of floating guests with trays VELCRO'ed to their clothing (I never liked assigned seats anyway).
It's not every space-mission where you can experience Thanksgiving 220 miles above Earth. The last time this happened was six years ago!
I have to imagine there's nothing like celebrating 'Turkey Day' eating Turkey while looking at Turkey… the country… all of it… from your window.
The seven astronauts and three crew members from the International Space Station will take a page from the very first Thanksgiving– sharing all that they have with each other… They'll have to – Seems NASA only launched 6 Thanksgiving meals up into space this year…. So as the Indians first shared their feast with the Pilgrims – We hope our astronauts slice that freeze-dried turkey a little more thinly for that lonely Russian cosmonaut on board.
Speaking of freeze-dried turkey…
Feel bloated after Thanksgiving dinner? Have that urge to loosen the belt, unbutton your pants? No problem when there's no gravity! Plus, if you're counting calories tonight…compared to your family's meal, its not too bad. Let's break it down for you: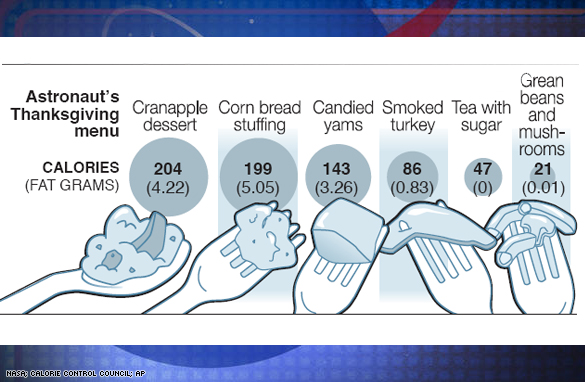 According to NASA the average Thanksgiving meal racks up 3,000 calories while their 'out of this world' meal only costs you 700 calories!
Reporters were privies to a taste test of the holiday dinner. One AP reporter noted:
"The smoked turkey was slightly stiffer than deli meat, like after it has been left in the refrigerator a week past its expiration date. The candied yams had a syrupy sweetness outside that dissolved into blandness in the middle. The green beans with mushrooms tasted like they have been frozen and then microwaved to an inch of their life."
Despite the not-so-rave-review, I think our space crew has a lot to be thankful for up there (hello?!? No in-laws!). Astronauts aboard the Mercury program missions ate food-paste out of a tube for dinner!
So before you take issue with how Aunt Sally prepared the white-meat this year… Think of the meal happening miles and miles over your head…. Let you never complain the Turkey was too dry again…