Program Note: CNN Heroes received nearly four thousand submissions from 75 countries. A Blue Ribbon Panel selected the Top 10 CNN Heroes for the year, and over 1 million of you voted for your CNN HERO OF THE YEAR
WATCH CNN HEROES: AN ALL-STAR TRIBUTE
A Global Celebration: Thanksgiving Night at 9p ET


____________________________________________________________________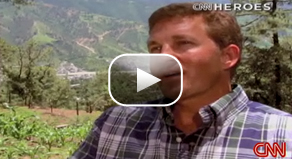 David Puckett's PIPO Missions brings prosthetic and orthotic care to people of southeastern Mexico - free of charge.
Dale Parker
Nominated David Puckett | HIS STORY
Thank you and CNN for allowing us the opportunity to let the world know that there are such great, giving and caring individuals such as the person I nominated-David Puckett!
I nominated David because of his hard work and dedication to such a much needed program that he created in Mexico. I came to work for David in 2005. Since the day I started work for David, his mission program has been a inspiration to me and each employee that works and has worked for David.
I have never had the opportunity to go on a mission trip with David but to be able to be part of what he does and the compassion and hard work that he puts into each and every othotic or prosthetic device that he creates is such a chilling experience.
When I first found out that David was one of the "top 10" I just started crying... To know that he had been chosen for such an honor was truly unbelievable and to know that I had helped him in such a way that I probably never could have otherwise was such a blessing to me.
I had always wanted to give to the mission but I felt I was never in a position to do so and by writing and nominating David-This was my way of being a part of helping him be able to help others in Mexico.
David has touched the lives of so many that are less fortunate and do not have the same opportunities that we have here in America. He is truly a unique individual whose unselfish ways and caring heart has empowered those who are not able to enjoy the everyday lives that we are able to live.