Program note: California investigators are trying to track down a suspected arsonist who may have set one of the current wildfires burning. Watch Ted Rowlands' report on how a community tracked down a serial arsonist; along with Ted's jailhouse interview with the man whose compulsion destroyed hundreds of homes and terrified thousands of people.
[cnn-photo-caption image=http://i2.cdn.turner.com/cnn/2008/images/11/18/art.margheim.jpg caption="Washington State Dept. of Natural Resources Officer Gary Margheim shows CNN photographer Tom Larson where he found a critical clue - the arsonist's 'sparking' device." width=292 height=320]
Michael Cary
CNN Western Region Senior Producer
Imagine waking up on a warm summer day wondering whether or not an arsonist may spark a fire that would wipe out your home? That's the nightmare residents of Kittitas County in central Washington dealt with daily during the summer of 2004 when fires were erupting sporadically, sometimes as many as three in one day.
"The public was stressed out. We had people not wanting to leave their homes," said Kittitas County Sheriff Gene Dana. "We had rumors of people on hilltops with rifles in the afternoon watching for people that might be trying to light fires."
Sheriff Dana set up a multi-agency task force filled with federal, state and local law enforcement and fire officials to catch the arsonist and bring a sense of security back to the rural community.
The fires started small, mostly on the side of highways. Then the arsonist started setting them near structures. The largest, dubbed the Elk Heights fire, forced hundreds to evacuate and ultimately destroyed two homes. That was bad, but 11 days later, the arsonist sparked three fires in one afternoon sending a shudder through law enforcement.
"Everyone's on edge, because we don't know what's going to happen in the days coming," said Washington State Dept. of Natural Resources Officer Gary Margheim, who was part of the Arson Task Force.
"It really heightened our anxiety," said Kittitas County Sheriff's Detective Jerry Shuart, also a member of the Arson Task Force. "Personally, I thought maybe this individual was taunting us."
All this just made the team more determined to nab the person responsible for putting their community on edge.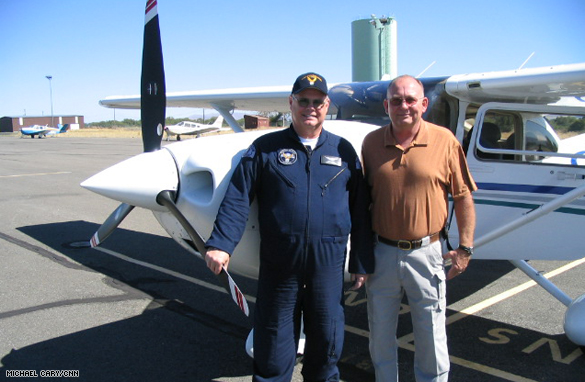 Kittitas County Sheriff's Detective Jerry Shuart spent days with Washington State Patrol Sgt. Monty Colver following the primary arson suspect from an airplane.
From identifying the breakthrough clue that would tie the fires together, a dogged surveillance by land and air, and the dramatic videotaped confession, investigators drive us to the scenes of the fires, share evidence photos and take us to the skies to show us what led them to the capture of a serial arsonist. It's the kind of access you rarely get.
And ultimately, you get a sense of what drives a serial arsonist, as we take you inside the Airway Heights Corrections Center in Spokane to meet Wade Kirkwood, the highway worker who was convicted for sparking 11 of the fires in Kittitas County.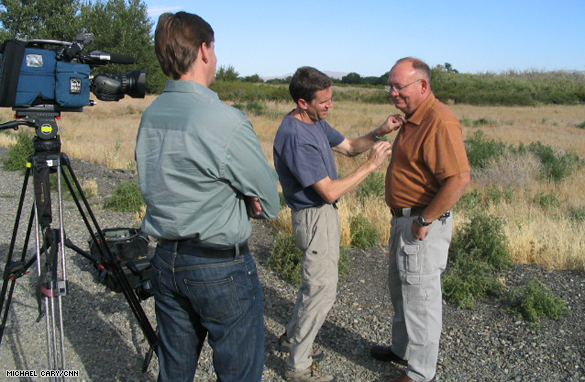 CNN photographer Tom Larson attaches a microphone to Kittitas County Sheriff's Detective Jerry Shuart, who tells Ted Rowlands about the police works and gut instincts that led to the arrest of a serial arsonist.