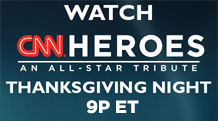 Program Note: CNN Heroes received nearly four thousand submissions from 75 countries. A Blue Ribbon Panel selected the Top 10 CNN Heroes for the year, and over 1 million of you voted for your CNN HERO OF THE YEAR
WATCH CNN HEROES: AN ALL-STAR TRIBUTE
A Global Celebration: Thanksgiving Night at 9p ET


____________________________________________________________________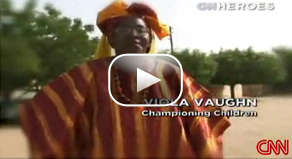 Amy Meyer
Nominated Viola Vaughn | HER STORY
Meeting Viola Vaughn was a transformational moment for me. It was in 2006 when I was teaching at a small university in Senegal, where Viola was already something of a local legend. I, meanwhile, was becoming disillusioned about "making a difference" in Africa, amid all the bad news and charges of waste, incompetence and corruption. I was eager to meet someone who was known for having real impact, helping thousands of local girls to stay in school longer, and to acquire employment skills.
The first thing I noted about Viola was her radiance… immense charisma and presence… in a petite grandmother… dazzling smile, gorgeous African clothing, aura of absolute serenity and faith. Viola is proof that anything is possible, and everything will always be OK.
The second thing I noticed was the exquisite quality of the pastries she brought to our meeting, made to international standards, by the rural African girls in her pastry shop. This was my introduction to one of several businesses Viola had started to provide modern, functional work and training for "her" girls, as well as income for her 10,000 Girls program. Viola is a social entrepreneur who has created a sustainable education and training program to raise the standard of living for hundreds of African families, without the slightest compromise in quality and rigor.
Viola lost no time in asking me to do a few things for her. I found myself begging for more, which is the effect she usually has on people. And so began a new level of inspiration for me… trust that the rare right person with the right combination of gifts, values and vision CAN make a difference, even in the most improbable and difficult circumstances. That's what Viola is doing, and I would gladly follow her down the barrel of the proverbial cannon.
The CNN Heroes program seemed like the perfect way to get wider recognition for Viola. If a long shot, I never doubted that if she were made known to CNN, Viola's exceptional qualities would shine through. I am thrilled that CNN people looked closely enough at this unknown candidate among 3000+ other nominees, to see her for the precious gem that she is. I had seen her "Heroes" segment on TV a few times since it first aired last March, and was thrilled, but not that surprised, to receive an email from her saying she was one of the 10 honorees, a finalist for "Hero of the Year." This is a tribute to Viola and her wonderful work, and to CNN.