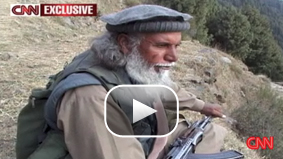 In a CNN exclusive, a Pakistani Taliban delivers a warning to President-elect Barack Obama. CNN's Reza Sayah reports.
Reza Sayah | BIO
CNN Islamabad Correspondent
I'm pretty sure the Taliban didn't shed tears of joy when America elected Barack Obama as president, but I was curious what they thought. Did the Taliban welcome the change Obama promised in his campaign? What do they think of "America's evil empire" electing a black man, who shares a middle name with a Muslim prophet, for president?
Getting to the Taliban in Pakistan isn't easy these days. Sometimes you can reach them by phone but face to face meetings are tough. Two major military offensives in Northwestern Pakistan have Taliban leaders keeping a low profile, and traveling in the region is as dangerous as ever. This week in Peshawar an American aid worker was shot and killed, a Canadian and an Afghan journalist were shot, and an Iranian diplomat was kidnapped. So we had to get creative to get the Taliban on camera.
Ultimately we established contact with Taliban spokesman Muslim Khan through a Pakistani freelance journalist who works with CNN. This was the agreement: we'd deliver 10 written questions and he'd answer them on camera.
The Q & A session took place in Pakistan's mountainous Swat valley. This place is stunningly beautiful. Some call it Pakistan's Alps but these days no one's skiing in Swat. Instead, militants and Pakistani security forces are killing one another, locals are fleeing for safety, and there's no end in sight to the bloodshed.
Muslim Khan sat in front of the camera with an AK-47 across his lap and answered our questions. I looked at his long white beard, his weathered face. This man is 60 years old, a veteran of the Afghan jihad against the Soviets during the 1980s. Here's what I wondered while watching him: isn't he tired of three decades of fighting? Wouldn't he prefer to spend his golden years relaxing somewhere? Doesn't he want peace?
Based on what I heard in the Q & A, the answer was an emphatic no, unless U.S. and NATO forces withdraw from Afghanistan. This is the one demand we've heard over and over again from the Taliban, the one condition where maybe they'll stop their jihad. But President elect Obama has made it clear that he plans to add more troops in Afghanistan and go after Al Qaeda and Taliban safe havens in Pakistan's tribal region. That's why Muslim Khan says a Barack Obama presidency will change nothing for what the Taliban are fighting for.
In recent months senior U.S. military officials have suggested that maybe it's time to talk to some "reconcilable" members of the Taliban because you simply can't kill them all, but there is no guarantee the strategy will work. Will the Taliban accept anything short of a U.S. withdrawal from Afghanistan? Can they be trusted? It's a complicated regional conflict. Soldiers and civilians in Afghanistan and Pakistan keep dying. A new American president is coming. I wonder how long Muslim Khan's beard will be before he finds a solution.