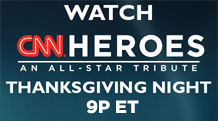 Program Note: CNN Heroes received nearly four thousand submissions from 75 countries. A Blue Ribbon Panel selected the Top 10 CNN Heroes for the year, and over 1 million of you voted for your CNN HERO OF THE YEAR
WATCH CNN HEROES: AN ALL-STAR TRIBUTE
A Global Celebration: Thanksgiving Night at 9p ET


____________________________________________________________________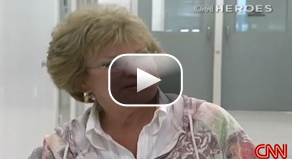 Carolyn LeCroy started the Messages Project to help children stay connected with their incarcerated parents.
Chris Dickon
Nominated Carolyn Lecroy | HER STORY
My initial response on learning Carolyn was chosen for the first round of heroes wasn't surprise. I have been with her on a few of the taping sessions in the prisons and have always come away feeling fortunate to have been able to drive a couple hundred miles to a prison out in the countryside somewhere, schlep boxes of tapes, mike wires, cameras etc. in an out through security, and help a little bit in letting those inside express the humanity we all share to their families. It's a moving experience.
The most important thing to me about her choice both times was the thought that it would help to get two messages across to the rest of the country:
The hidden effect of our rush to put people in prison in this society, most of them for drug related offenses, is the population of 2 plus million children with incarcerated parents, and the tremendous burden that puts on them to succeed against already difficult odds. They have a much higher chance of ending up in jail themselves.
The overcoming of our stereotypes of prisons and the people in them. In my experience, most of them are people just like the rest of us. Their hearts and humanity may have been crusted over by the demands of their environment, but when you give them permiission to put that aside for the benefit of their children and families you find men and women who speak very eloquently in their own ways to what we all need and want as members of society.
Carolyn told me of the finalist status over a cup of coffee at a local diner. The first part of our following conversation was about how it can continue to get the above message out. She's an interesting person, sort of shy about this kind of attention and not feeling exactly worthy of it, but I keep telling her she really is a hero, just like the firefighter who keeps going back into the fire to do what needs to be done.
You probably know that one of the most important prison issues these days is the problem of reentry into society of those who have been incarcerated. A month ago we had an evening event in Norfolk that brought together corrections officials, prosecutors, police, social workers, citizens, ex-offenders, etc. to talk about this community's response to the problem. The large meeting space was overflowing, standing room only. 'Who put that together?" I asked her over that cup of coffee. "Oh, I did," she tossed off, as if it were nothing.
Thanks for recognizing her and the implications of the work she's doing.