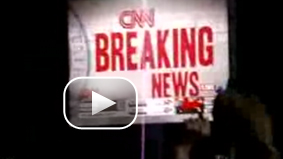 Watch the crowd in Grant Park, Chicago react to CNN's Projection for President of the United States.
David M. Reisner
AC360° Digital Producer
Wanted to share something cool with you.
Election night at CNN was one of the busiest nights of the year... as producers, reporters, and control room staff scrambled to get viewers the latest projections as polls closed in states across the country.
But it seems for those of you watching us, it was a whole different story.
Who knew crowds were counting down with CNN's 'poll closings' as if it was New Year's in Time Square!?!
One countdown in particular brought an instant double-reaction from many crowds;
Flash back to Nov 4 – The time is 11:00pm ET – Polls are closing in 10 seconds in California, Washington, Oregon, Idaho, Hawaii...
Crowds begin count down: 10, 9, 8, 7, 6 .... Ready to cheer when our countdown clock hits '1' (as they did six other times that night)... except this time it's different.
CNN calls the race...
One pro-Obama website that clearly couldn't get enough of the victory has pulled together the best clips from across the country, and around the world of that moment; Showing people's instant reaction to CNN's projection of Barack Obama's presidential win. (For the record, there aren't many videos of that moment at McCain parties.... though they were cheering for their candidate all night long as well)
What I find amazing is that you can literally hear the moment it registers with them... The applause for the countdown switches mid-cheer to that of total surprise.