Blake Cabot
Technology Entrepreneur
I'm a fiscal conservative, and have been a Republican all my life. Although the social values issues pushed by Republicans over the past two decades have never appealed to me, I believe in international trade and less government, as long as it's not accompanied by a ballooning deficit. And I expect competence.
But there has been no accountability in the Bush Administration: After Abu Ghraib and the disasters of Iraq, Bush didn't fire Rumsfeld or any other senior member of his staff. So John Kerry had my vote in 2004, though I wasn't happy about it. And adding $5 trillion to the debt - as Bush has done - is not fiscally conservative.
McCain's idea of lowering taxes for everyone across the board – when we're already adding hundreds of billions of dollars of debt – pushed me over the edge. And then to have Republicans call Obama a socialist, while they were nationalizing a huge part of the national economy – well, that has nothing to do with the Republican Party that I grew up in.
By contrast, Obama's take on issues made a lot of sense to me, and he was inspiring as a public speaker – especially his speech in Iowa about how this whole country needed drastic changes.
So I decided this was the election of my generation and signed up to go work for Obama in mid-summer. On September 13th, I headed to Camp Obama in Brooklyn. The camp felt very much like business school training, focusing on motivation, management techniques, and specific tasks to be done in the field. Ten days later I was on my way to Lebanon, Pennsylvania as a deputy field organizer.
Lebanon is a largely Republican county in the middle of the state. Once a German Dutch settlement, the area had gone from union Democrat to socially conservative Reagan Republican, and remained overwhelmingly white.
I stayed at the home of local volunteers who housed me for over six weeks. I would come back often exhausted late in the evening, but there was Don, waiting up for me, to make sure I was home safe and fill me in on what had been happening. Toward the end of the campaign, as the nights became longer and more grueling, I found myself getting back at 4 or 5 a.m. There was Don, more than once, waking up and giving me a hug. My host couple couldn't have been more wonderful.
My first task in Lebanon was to organize the various lists of potential voters that came from VoteBuilder, the online DNC database, and handed out to various volunteers and team leaders. At Camp Obama, they had said that no one was going to win this election through data entry. That, however, was exactly what I found myself doing.
My other focus initially was on registering people to vote.
Accompanied by another volunteer with some obvious drug dependency issues, I went out on a registration drive, going from door to door in a poorer part of town. Next to a Chinese restaurant on North 9th Street, we visited a seedy bar, and then a tract house that a man in the bar claimed was a crack house. There were three friendly African-Americans men in front, one of them well informed about politics. So I registered them to vote. As the district leader later commented, "Welcome to retail politics."
On that same trip, I went to a rundown old age home, looking to persuade voters to register or vote for Obama. I met the head nurse and asked whether she was registered to vote. She said that she couldn't because she was on parole. I responded that the law had changed two years ago and only felons serving time could not vote. Though she registered a dozen of the residents at the home, she would not register herself. I felt that she felt so defeated by the system that she wouldn't ever vote.
Some local college teachers allowed us to register students in their classes. In that spirit, I approached the football team at Lebanon Valley College, arriving after practice to find all these rather large, sweating guys. Their coach told them to take a knee and discussed the importance of this election. They dutifully filled out their registration forms on top of their football helmets. That was the good story about canvassing at the college. I found registering the liberal arts students at LVC less rewarding. Very few seemed to have the basic ability to fill out the form. The word "municipality" stumped quite a number.
Most of the voters that we registered came from four volunteers standing in front of the local Wal-Mart. Often people would say that "they don't vote" or that "politicians were all crooks". One significant Christian denomination in the area, the Mennonites, don't vote, but instead pray for their candidate. As they were unlikely Obama supporters, I was not disappointed.
One day at Wal-Mart, I asked a blond woman in her mid-30s whether she was registered to vote, and it came out that she believed Barack Obama was the Anti-Christ. I said, "First off, I might understand your not voting in general, but you have to vote against the Anti-Christ!" Coming from Texas and a Baptist high school, I knew how the end of the times worked. After registering her, I added that the whore of Babylon had not declared the Anti-Christ god in the temple of Israel. In fact, the Bible prophesies in Revelation 17:3 and in Thessalonians 2:4 to that the Anti-Christ will appear after the destroyed Temple of Israel was rebuilt and the whore identified him as God.
"No temple, no Anti-Christ." I found myself saying this often in Lebanon. The woman at wal-Mart understood immediately and said, "You know, you're right. Anyhow the Anti-Christ is supposed to be Mediterranean."
The election shifted in our favor after the first debate on September 26th. Obama had kept his cool and looked Presidential during the debate, and his ideas were more in sync with the times. McCain's unfettered market and tax cuts looked out of step when we were nationalizing elements of a collapsed financial system and we already had a deficit of $400 billion.
The financial crisis, McCain's stunt of flying to Washington, D.C. and "suspend" his campaign, and Obama's debate performances tilted the board in our favor from then onward.
Doors that had been slammed in our face were now quietly opening. Even local Republican councilmen were quietly telling us that they now supported Obama.
After the deadline for registering voters passed on October 6th, we shifted to persuading undecided voters to vote for Obama. Undecided in Lebanon largely meant "low information" voters. Sometimes they wouldn't know what a Democrat or Republican was and would often choose Republican because they were vaguely aware that George W. Bush was a Republican. The only argument that caught their attention was the middle class tax cuts. Obama's policies on health care and foreign policy were rarely of interest. One man came into the Obama HQ in Lebanon and said that the Democrat was too vague. I pointed out that his plans were quite detailed and I could give him a copy. He answered that he didn't have the time to read. As was so often the case, he didn't have time to inform himself but blamed the candidate for not informing him anyway.
Throughout this period, we also worked to recruit volunteers. Our bait was the Obama/Biden lawn sign. People would come in for the signs and I would guilt them into volunteering with such arguments as "it's cheaper than moving to Canada." About half the time I would get them to do something. Over the election, we had 900 volunteers at some time or other, of which 800 were local. The number of registered voters in Lebanon County went up from 76,187 to 82,440 with 89% of the increase among Democrats. I believe that we registered more Republicans than the local Republicans did.
A Latino boy about 10 years old named Kevin came for stickers on his skateboard. I talked Kevin into putting stickers with polling place addresses on flyers we hung on the front door to get out the vote. Kevin took charge. He started counting all of the literature and slapping on stickers. As I recruited more help, Kevin would train and organize them. At one point, the room was filled with the half dozen volunteers that Kevin was managing. The next day Kevin came back to resume stickering. We asked if he wanted to come to Governor Rendel's speech at the college. After talking to his mother and a brief visit to her to prove that we were responsible adults, Kevin met the governor, had his picture taken with him and was interviewed by the local newspaper. Kevin handled himself marvelously.
A middle age man with severe back problems, Jim, came in for a sign and I talked him into making phone calls from his home. After several rounds of phone lists, Jim asked me to pick up the completed lists at his apartment on the night before the election. Jim was so grateful for my modest help that he gave me three cayenne peppers from his own garden.
The volunteers changed the final couple of days: people came from out of town, even from other countries. There was a good-looking British couple in their early 20s who were driving from New York to Washington, taking a campaign tour. They wanted to have a powwow about policy, but I didn't have time for that. I just put a clipboard for canvassers in their hands and said, "Go find out." And they did.
With an inability to propose an economic plan effectively and Palin's star on the wane, the Republicans focused on defaming Barack Obama.
And as we neared the end of the campaign, the rhetoric started ratcheting up in a nasty way. All the talk about "small town" "real America" meant something specific to the white and homogenous Christian communities in Lebanon, which others around the country may have missed. The alternative, it was clearly implied, was the multi-ethnic, metropolitan America and, as this logic went, unpatriotic, ultimately 'non-American' America.
Making precisely this point, someone parked their car right outside the campaign headquarters with slogans painted all over to the effect that Obama was a liar. On the rear window he wrote "No Obama: Non American!"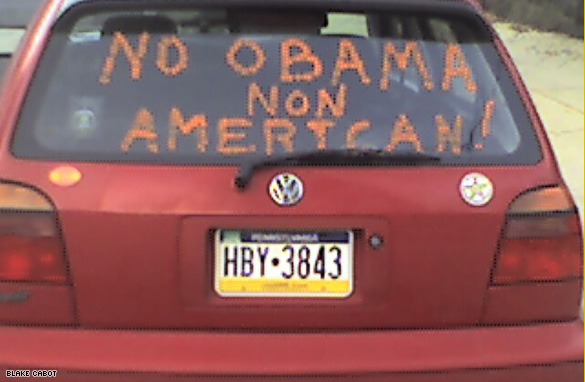 It became clear that inflammatory words would take 3 to 4 days to go from the candidates' mouths to voters' mouths in Lebanon, via talk radio. A four-page flyer was put in Republican mailboxes describing how Obama was a terrorist. Another flyer was put on the windshields of cars outside of church explaining why Barack was a Muslim.
There is no question that these tactics were used to stoke the racism of lower middle class whites.
And they gave license for a minority of racists in Lebanon to do some ugly things. When Sarah Palin made her comment about "real America," for example, racist comments increased dramatically.
A woman in her 80s from Annville came in and told the story that she was sitting on her porch and had an Obama sign in the front yard. An SUV drove by and a teenage boy in the back seat yelled out, "Nigger lover!" This woman asked a friend to drive her to the grocery store where the van had pulled in, and waited for the boy, and his mother and father as it turned out, to come out of the store. She said, "Now tell me to my face what you said driving past my house."
But the family just walked right past her. She was hardly the only one to go through this sort of thing.
The Harrisburg's Patriot News reported that at a John McCain rally, "a white female loudly demoralized a high school student group from SciTech, specifically the African-American students, by making several derogatory comments and suppositions about welfare. [The] students simply walked away, and in the process had to guide (away) one of the SciTech chaperones so that she could not confront the ignorant women shouting obscenities toward the 14-18-year-old students." And get this: "Several adults and community leaders were in earshot, but no one with the exception of the chaperones defended the students' honor."
And the police were no help. McCain supporters stole endless signs (something admittedly we have heard in other areas working for the other side). We asked people to call the police, because it was a violation of private property, if nothing else. According to one volunteer, the police asked her what kind of a sign it was, and when she said, "Obama," they told her, "We can't do anything about that."
Experience on the campaign front showed there was a direct connection between the race-baiting tactics of the McCain campaign and an old lady being called a "nigger lover." Irresponsible political speech like that leads to the worst in people. The 2000 John McCain never would have sunk so low. Republicans need to abandon those divisive tactics, and rediscover what they used to stand for.