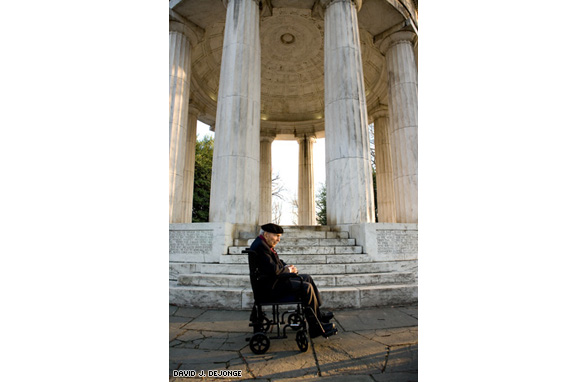 David J. DeJonge
President, DeJonge Studios
President & Co founder ~ World War One Memorial Foundation

I have spent many hours photographing historical figures and correspond off-and-on with some of them, but I am just a man from the Midwest who cares deeply for the American veteran.
This is the story of my effort to bring honor to an entire generation, a fight that has become deeply personal.
Twelve years ago I began a project titled 'Faces of Five Wars,' documenting the veterans who fought in the wars of the 20th century. I pleaded with a national organization of photographers to dispatch members to shoot portraits of every living World War I veteran. When this did not happen, I made it my mission and was honored to spend time with the last nine surviving Americans.
Photographing Lloyd Brown, the last World War I Navy veteran, changed my life.
When I contacted Lloyd's daughter Nancy to schedule an interview and portrait session she said, "Just look for the mailbox. It will be the one with the name peeling off."
How emblematic, I thought, of America's failure to remember the veterans of a conflict marked by the horrors of poison gas and trench warfare. On Veterans Day or Memorial Day or when another World War I veteran died there would be a flurry of media attention, but like a wave on the sea this attention would splash ashore but then fade away.
I have traveled more than 75,000 miles for this project, which was unveiled at the Pentagon on March 6 (http://www.cnn.com/2008/US/03/07/war.veteran/#cnnSTCVideo). Inevitably my seatmate on a plane, train or automobile would conclude our conversation with the same question. "Why isn't there a World War I Memorial in our nation's capitol?"
My friend Chris at the Veterans Administration told me of a small memorial halfway between the Korean War Memorial and the World War II Memorial, built to honor only residents of the District of Columbia who fought in World War I. Dedicated on Nov. 11, 1931, today it sits as an orphan on the Mall, hidden among trees, appearing neglected and decaying; a symbol of how we as a nation have forgotten 4,734,991 Americans who served during World War I and the more than 116,000 who died in that conflict.
On that March day, I was accompanied by Frank Buckles, at 107-years-old the last surviving American veteran of World War I. After a Pentagon reception hosted by Secretary of Defense Robert Gates and an Oval Office visit with President George W. Bush, Frank and I made our way to this forlorn memorial. As we neared The Mall, this gentle patriot's face was illuminated by a crisp spring light, its wrinkles defined. His expression changed as we (Frank in his wheelchair) arrived at the memorial to D.C.'s World War I troops. "It looks like it needs fresh coat of paint and some landscaping," was Frank's understated assessment.
At the foot of that memorial I promised Frank that I would fight to get him and his departed comrades something more. My idea is simple: restore and expand the existing structure, perhaps adding a trench with "doughboys" crouched, bayonets affixed to their rifles, gas masks at their ready. A Congressman from Texas, Ted Poe, has enlisted in our effort to persuade those with the power to make this a reality. Contact your congressman in the House of Representatives and urge support of the bill H.R. 6696. And visit a Facebook page: Don't let Frank Buckles die without a National World War I Memorial.
There are those who think Pershing Square in the District of Columbia – named for General John Joseph "Black Jack" Pershing, commander of the American Expeditionary Force in World War I – is a worthy location for a national memorial. However, a precedent has been set and Frank Buckles and many others feel strongly that it should be on The Mall, alongside the memorials for World War II, Korea and Vietnam. This is where Americans and visitors from other nations come to reflect on wartime sacrifice.
Honor should be paid there, on that ground, to Frank and all of the men and women who served in "the war to end all wars." Please join me today to bring honor to these patriots.