[cnn-photo-caption image=http://i2.cdn.turner.com/cnn/2008/images/11/04/art.kogelocow.jpg caption="The bull that is set to be slaughtered should Obama win"]
David McKenzie | BIO
CNN Correspondent
The entire village of Kogelo, in Western Kenya, is supporting Obama on election day. Well, almost. There is one supporter of Senator McCain here. And that's the bull that will be slaughtered should Barack Obama win.
Feasting on a bull is traditional in this part of Africa and in the world headquarters of Obamamania outside of the US, there will be a lot of nervous bovine tonight.
CNN's come here because this is the ancestral home of Barack Obama (as Kenyan's see it). And in a few hours this remote place could be part of history.
Barack Obama Senior, the senator's father, was born in this was born in the remote district of less than a thousand people. His grandmother lives in simple house now surrounded by a fence and Kenyan police.
But that's not the only family in Kogelo. The entire clan has descended onto the village. There are half-brothers and aunts, half sisters and uncles-the large extended family that is now famous in Kenya.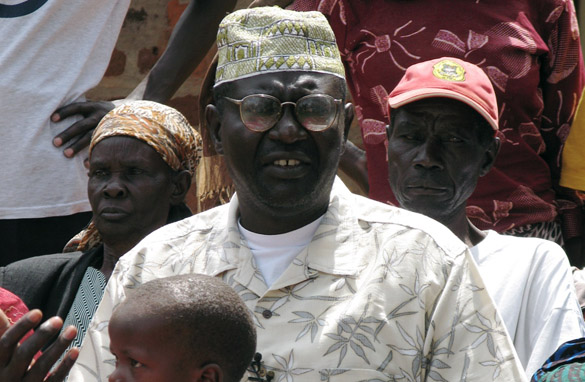 Malik Obama, Senator Obama's half brother.
The locals tell us that usually not much happens here. But Kogelo Village has become a media village; inundated with local and international journalists. There are hordes of us here. Running around in busses and SUVs, hitching rides on bikes and pumping out live shots on satellite.
As voting started in the US, prayer meetings were held at the local medical dispensary calling for an Obama victory. In celebratory Pentecostal prayers, the district called for a great Obama victory.
The extended family of Obama have gone from a relatively simple country life to giving press conferences on the yard of their homestead in rural Kenya.
They are being coy about a possible Obama victory, but when I spoke to Malik Obama, Obama's half brother, he couldn't help himself. "There is an opportunity for change and the thing is that this agent for change is home bred," he said, "we are looking forward to a great celebration."
And so is the whole of Kenya.
I have seen Obama bootleg CDs pulled from CNN air being sold in Nairobi, Obama '08 pins pushed by hawkers and even Obama Campaign billboards looking over the bumpy streets and bicycle taxis of Kisumu.
As voting continues in America and the results trickle in they are hooking up car batteries to borrowed TVs and hunkering down next to tiny radios to wait to see if their favorite son can make it all the way to the Whitehouse.
________________________________
More pictures from Kogelo, Kenya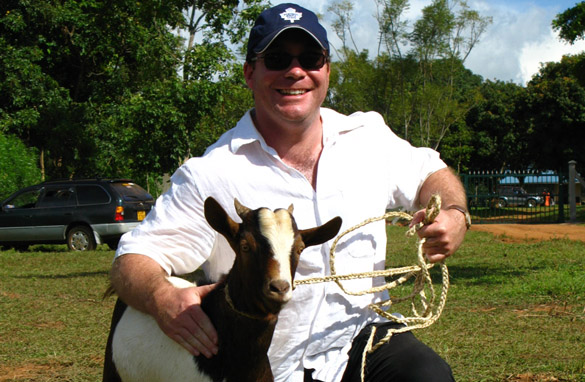 A writer for the London times with a present for the Obamas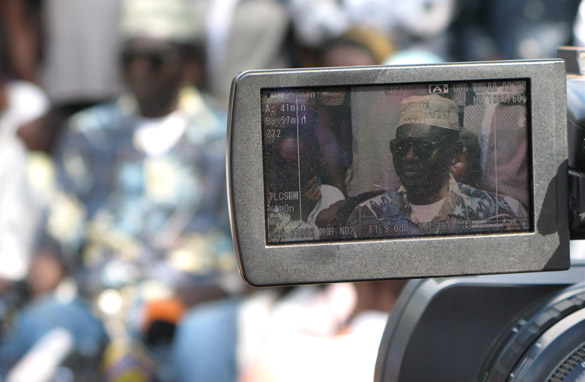 Malik Obama, Senator Obama's half brother, gives a press conference in Kogelo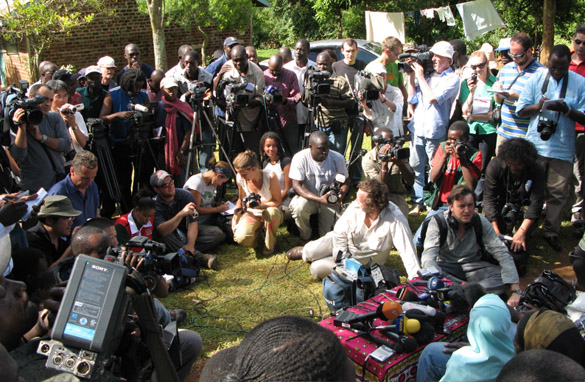 Journalists descend onto Kogelo