Gary Tuchman | BIO
AC360° Correspondent
[cnn-photo-caption image=http://i2.cdn.turner.com/cnn/2008/images/11/03/art.stevens.jpg caption="Sen. Ted Stevens campaigning in Alaska."]
Senator Ted Stevens has never been known as a big fan of the news media. So we knew getting him to talk to us on camera following seven felony guilty verdicts against him would be a bit challenging. He hadn't done a TV interview since the verdicts. Ultimately, he did do an interview with us. But making that happen took us on an unusual journey.
On Sunday, we went to interview his Democratic opponent in the Senate race, Anchorage Mayor Mark Begich. The mayor was at a candidate forum in the entry way of a large Baptist church that was full of candidate posters, pamphlets, and balloons. As we were getting ready to greet Begich, we saw to our surprise that Senator Stevens was also shaking hands about 30 feet away from his opponent.
I came up to the 40-year Senate veteran, introduced myself, and asked him on camera if he was angry about the guilty verdicts. He told me "not that angry. I'm angry at you guys 'cause I'm trying to visit with friends; I just see them once or twice a year." I then mentioned because he was campaigning we wanted to see if he would talk, and he objected since we were doing this in a church. I mentioned to him that there was some lively campaigning going on in this entry way, but that didn't seem to matter to him.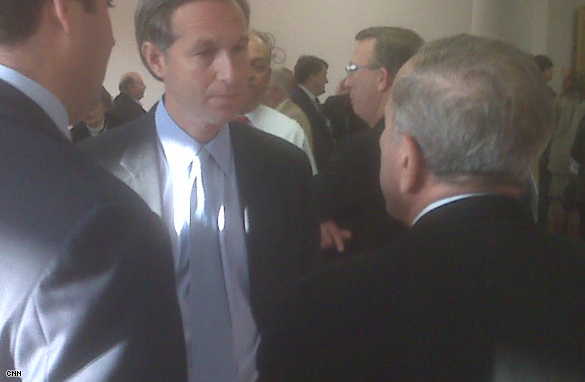 Gary Tuchman approaching Sen. Ted Stevens in the Baptist church.
An hour later, he held a rally an hour a way in the city of Wasilla. (Yes, the same city where Sarah Palin used to be the mayor.) After talking to hundreds of enthusiastic supporters about faith, he not-so-surprisingly gestured toward us and said we "should not have come into the church to ask me questions."
Well, after the rally was over we told the Senator and his aide that with all due respect, the church service was over and it had morphed into a campaign forum. Ultimately, Stevens made the decision to talk to me and it was an interesting discussion.
In a nutshell, Ted Stevens says he is not scared about the possibility of prison time because only "someone who is guilty can go to prison. I am innocent."
I asked him how he felt about John McCain and fellow Alaskan Sarah Palin both wanting him to step down, and he inferred he doesn't believe they truly feel that way. "They just said that to get you off their tail."
Ted Stevens has always been a fighter. At the age of 84, that aspect of his personality doesn't seem to be mellowing.
Editor's note: We're not the only ones talking about Gary's journey to get an interview with Sen. Ted Stevens. Read more about it here.