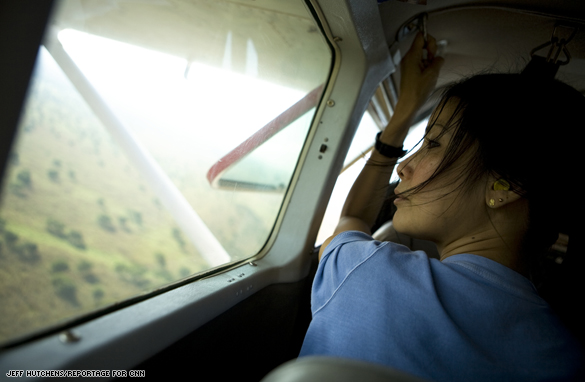 Editor's note: CNN's award-winning Planet in Peril returns this year to examine the conflict between growing populations and natural resources. Anderson Cooper, Dr. Sanjay Gupta, and Lisa Ling travel to the front lines of this worldwide battle. Ling has been a co-host of The View, correspondent for The Oprah Winfrey Show, National Geographic and Channel One. She filed this blog from Chad.
______________________________________________________________
Lisa Ling
AC360° Special Correspondent
Today was a day filled with both extreme jubilation and utter horror.
I'm using the last bit of my computer battery whilst sitting under a mosquito net at the Tinga Camp in the Zakoma National Park in southeastern Chad. We are here to report on the astronomical reduction of Central African Elephants in the region. We're with Wildlife Conservation Society biologist Mike Fay, who has conducted comprehensive surveys of the region's elephants over the years. He says over the last four decades, the number of Central African elephants has dwindled from nearly two hundred thousand to several thousand: the pace of the loss has been hugely shocking and disturbing. The global demand for ivory combined with war in neighboring Sudan has nearly killed off the Central African elephant. These elephants are the largest land animals on earth and have roamed the region for thousands of years. They have proven, however, to be no match for man and his gun.
Our day started early. After fueling, we boarded a Cessna airplane in search of elephant herds. Fay says that having an airplane greatly impacts the ability to survey the elephant population but also to defend against poachers. People are not allowed to live in the park, but from the air, we saw camps of nomads living just beyond the borders.
We flew for about an hour and a half without seeing any elephants. I was starting to get sleepy-eyed when Fay surprised us by saying, "I'm seeing a lot of elephant activity."
What he meant was that he was seeing huge tracts of grass that had been trampled–a sign of the presence of a lot of elephants. And then, we saw them: a huge herd of over two hundred giant grey beasts huddled together moving in collective formation. It was a truly awesome sight to see such an abundance of these massive animals in the wild. I was having a hard time containing my excitement until the plane started tilting so severely that I began to feel sick. I turned around to see our still photographer Jeff sitting in the seat behind me: he was green. Nevertheless, it was a spectacular experience to see these glorious animals and it was an image I will never forget. Fay said that seeing such a big herd made him feel "optimistc."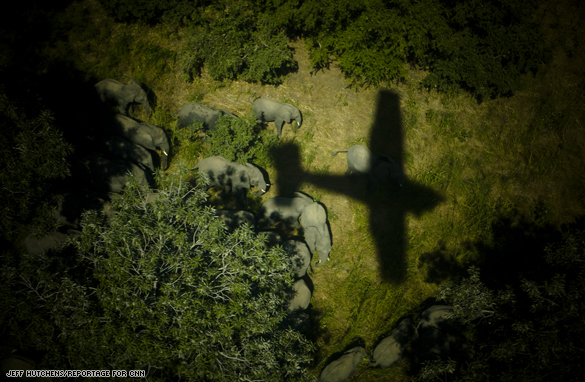 Back at the lodge, we all dispersed to our rooms to rest when two French advisors to the anti-poaching patrol came to tell me that there was a dead elephant less than two miles away. They said it looked to be a recent kill as it was still gushing blood.
We rushed to the site and the smell was immediately impenetrable and unlike anything I had ever smelled before. We jumped out of the vehicle and followed the stench through the maze of tall grass. I literally started to gag as we rounded the corner and saw it: a huge mound of grey covered in maggots and crawling with flies: it was a female. Simply put, it was just gruesome. Though the blood was still fresh, Fay said that it looked to have been dead for a couple of days as its body was starting to bloat and vultures seemed to have gotten to it. He observed that it had several bullet wounds and that poachers probably shot into the herd and simply struck this particular elephant. This elephant, however, died for no reason. Its body was left totally intact. It had no tusks – no ivory. Fay thought it probably walked for a while before dying in the place we found it.
I was absolutely horrified by what I was saw and smelled. I asked Fay how many times he had seen this and sullenly replied, "a hundred times."
It was hard to believe that this day that began with such excitement and hope could end in such tragedy. These magnificent creatures that predate man by thousands of years: victim to him and his mighty weapon.