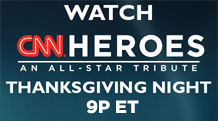 Program Note: CNN Heroes received nearly four thousand submissions from 75 countries. A Blue Ribbon Panel selected the Top 10 CNN Heroes for the year, and over 1 million of you voted for your CNN HERO OF THE YEAR
WATCH CNN HEROES: AN ALL-STAR TRIBUTE
A Global Celebration: Thanksgiving Night at 9p ET


____________________________________________________________________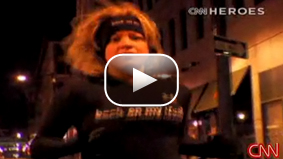 Anne Mahlum used to run by homeless men each day. Now, she's running with them in an effort to get them back on their feet.
Sonja Mahlum
Nominated Anne Mahlum | HER STORY
I am Anne Mahlum's mother. Last fall I was watching the CNN televised award ceremony for the 2007 heroes. I was really impressed with the people CNN honored. My daughter had recently started her non-profit "Back On My Feet" in Philadelphia and I thought I would nominate her, even though as her mother, I'm probably a bit biased in my opinion of Anne. So I took the time to write her story down and mail it off to CNN, thinking they'd probably never consider it, coming from her mother. (Don't all mothers and grandmothers brag about their kids? Would you like to hear about my grandkids too? )
It seems like I am attending more and more funerals of my friends' parents these days. I often listen to adult children say that their mother or father was their hero, but they didn't often realize this until much later in life. I feel very blessed in that I can say, my mother and my daughter, are two of my heroes. My mother was never one to say "I Love You" or " I'm proud of you" out loud. I think it was part of that generation's feeling that those types of feelings were not shared out loud You were just supposed to know that somehow. But on my mother's death bed 5 years ago, she opened her eyes and looked at me and finally said, "I'm so proud of what you do, how you live your life, and how you've raised good kids." So I try hard to tell my own kids often, how proud I am of them.
When Anne started her non profit, I was so proud of her, yet a bit worried and scared for her also. It's quite an undertaking at the age of 26. I had no doubts she could do it–she's always been an high achiever, and is highly motivated. Even as a young kid, if I told her, she probably couldn't do something, she'd do everything in her power to prove me wrong. I knew that Anne had the ability and motivation to go after any job she might want and had a high probability of getting it. In fact, last summer, she had gone after and gotten a very good job with a communication company in the Philadelphia area. But the day before she was to start the job, she decided to let it all go, in order to devote all of her time to getting the homeless people of Philadelphia, back on their feet. She gave up a good salary and benefits for a cause that was near and dear to her heart. She always has said, she really wanted to do something that makes a difference in life. And that is certainly what she is doing.
So after watching the CNN ceremony last year, I couldn't pass up the opportunity, to let someone know how proud I was of my daughter. It is not a course of action that not many 26 year olds would take. Most of them are ready and willing to climb the corporate ladder, hoping to achieve their materialist dreams. I wanted my daughter to know how proud I was of her that she chose a different path–I wanted everyone who would listen, to know her story. ( As her mother, I still have some sleepless nights though, worrying about her possible safety concerns.)
When I found out she had been chosen for the the CNN story, I was thrilled for Anne. She deserved to be recognized for her efforts-not because she was any different than any of the other well deserving nominees, but because her story is different. As an avid runner herself, she knew what running did for her mental and physical health. She knew she could help these homeless people feel differently. If they could somehow start to feel better mentally and physically, their lives would improve--and they have. She has taken the time to care about these men and women, like no one has ever done in their lives before. Anne herself, starting running in high school, to clear her head, and have some "thinking" time during a difficult time for a teenager. Her father and I had just split up and were headed for divorce, and running gave her some solitude time and made her feel better.
I am truly ecstatic about the possibility that Anne could be the #1 CNN hero story. But if Anne doesn't win the top prize, that is fine–she is still a hero to me and to each of those homeless people who chooses to run with her and her volunteer runners. Every one of the "Heroes" has a well deserving cause, and whoever wins the contest now will put the prize money to good use, continuing to do good in the world.
A special thank you to all the people who work on the CNN hero productions. Every story I see is an inspiration and goes to a well deserved hero. I can't possibly imagine trying to sort through these nominations and choosing only 10 finalists.