Editor's Note: CNN has establish a national voter hotline for individuals to report potential voting problems and irregularities on Election Day. On air, viewers will see a map that highlights irregularities across the country. In addition, CNN.com users can zero in on specific counties in each state experiencing the largest number of Election Day complaints, as well as the most commonly occurring type of problems. The toll-free voter hotline number will be
1-877-GO-CNN-08
(1-877-462-6608)
_____________________________________________________________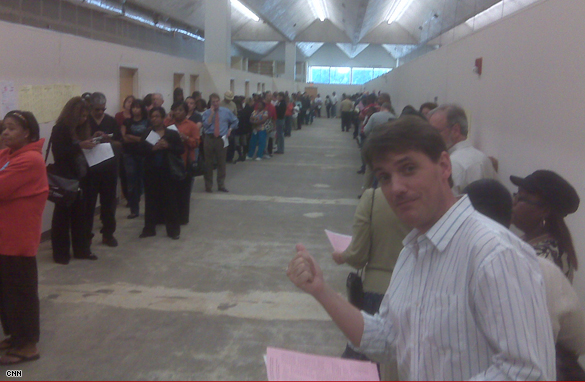 David Mattingly | BIO
AC360° Correspondent
Election day is two weeks away...TWO WEEKS.
Imagine my surprise to find a TWO HOUR WAIT to vote early (see photo...that's me on the lower right). My home precinct is just outside Atlanta and in previous elections there had been a line on occasion but nothing like this.

Everyone I talk to is excited about this election. They believe this is a critical time for the country. Some are very worried about the future of the economy and their jobs.
Others say they want to be part of history. No one is complaining about the long line that snakes it way through the corridors of this massive government building. It's interesting to see the looks of amazement as people turn a corner at the end of a hallway only to find a longer line ahead of them.
One voter told me she believes this is the best alternative. It took her four hours to vote in 2000 and was worried it would be worse this time. Personally, I'm very happy to be in this line...officials tell me it was even longer yesterday!