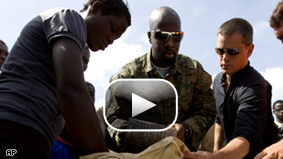 Haitian-born singer Wyclef Jean and actor Matt Damon distribute food to flood victims after four tropical storms hit the area in Gonaives, Haiti, Sunday, Sept. 14.
Edittor's Note: Yéle Haiti is a movement led by Wyclef Jean that is helping to bring hope back to Haiti. Projects are designed to make a difference in the fields of education, health, environment and community development. The power and reach of music, sports and the media is used to increase the impact of these project
Wyclef Jean
Musician,
Yéle Haiti Foundation
I was born in a village called LaSerre. LaSerre is a village in a region called Croix-des-Bouquets, just a few miles east of Port-au-Prince. LaSerre might as well be 100 miles away from Haiti's largest city. It is a very small rural village that still does not have a paved road.
I have returned to that village many times over the past few years. I have a lot of dreams of what we can do to make sure that other children like me can get the opportunities that I did. I would have had them, had my father not had vision. Not gone against the odds, not taken risks, and not believed.
In August of this year, four hurricanes hit the island of Haiti in less than two weeks time. I was traveling on tour when this occurred, similar to when Hurricane Jeanne hit Haiti in 2004. Then I was in Paris touring with the Fugees and what was happening in my homeland just took me completely out of myself. It was very difficult to continue on.
[cnn-photo-caption image=http://i2.cdn.turner.com/cnn/2009/images/01/12/art.vert.haitimap.jpg width=292 height=320]
Similarly, this time I was touring in Canada myself, and returned to New York. I gathered the Executive Committee of my foundation, YÉLE HAITI, and made a decision that we must take action in accessing the accurate status of the people in the outlining areas of the country. The reports were horrifying.
I returned to Toronto for an annual Gala for a partner of YÉLE's, ONE X ONE. At the Gala, I shared the devastation of Haiti with my friend and remarkable human being, Matt Damon. I was concerned that Hurricane Ike which was approaching Texas, along with all the Presidential election coverage including the announcement of the Republican Vice Presidential candidate would take all the media attention away from the four hurricanes that had really devastated not only Haiti, but many other Caribbean islands, such as Cuba. Thousands of people had lost their homes, children, family members, and were left without food and water.
Imagine Katrina's impact on New Orleans and multiply it by 1000.
What pains me most, and much like most Americans were angered by the response to Katrina, is that these are poor people without means. Matt immediately volunteered to come with me so we could gain global media attention. Five days later, we were in Haiti.
SEPTEMBER 15, 2008:
5:00am – I awakened with a lot of anxiousness. Driving to the airport in New Jersey, I had a lot running through my mind.

7:00am – Board a plane in New Jersey with my cousin Jerry and One X One team, Frank McKenna, and Joey Adler.

10:00am – Land in Miami to pick up Matt Damon.

12:30pm – As I landed in Port-au-Prince, it felt very different from the countless times I had come before. In fact, I had just been there 8 weeks prior for a visit with my Yéle team on the ground. I knew that what I would see would be devastating even to me.

2:00pm – We immediately got into vehicles and drove to a town called Cabaret. Cabaret is a town that was flooded by a river that overflowed. More than 40 mothers lost their children in the flood. Swept away in the middle of the night as the waters gushed through their homes. Grandparents loosing grandchildren. Farmers lost their only harvest for the year. There is no water, no food, no seed, and no fertilizer. Nothing left.
My country was once the richest in the Western Hemisphere. All of these thoughts run through my mind as I sit next to Matt. Matt is excited that he is finally seeing Haiti after all we have spoken about it over time. Deep in my heart I wished I had gotten a chance to bring him here under different circumstances.

Upon our arrival in Cabaret, we stopped to visit many of the people. A mother described how her child was literally pulled out of her hands by the water. I thought of my daughter, and what if that had happed to me, and got swept from my hands in a storm. I could not so much as even wrap my mind around how that would impact me. She asked me to promise that when I get back to America that I will tell everyone what I saw. She asked me to promise to help and send as much help as possible for them. She asked me to promise to come back.

We had arrived with our team from YÉLE HAITI and our partners, the World Food Programme, Pan American Development Foundation with assistance from the United Nations Development Fund and our friends from ONE X ONE.

We had planned a food distribution for that day in the town. But, for a moment I froze before speaking to this woman that had just shared her darkest life moment. I then said to her, "not only will we be back, but we will help you get your house back, we can not bring back your child, but I will make sure she will get the proper funeral as her soul must rest in peace."

Then I met a couple that was over 100 years old. The man was 106 to be exact. I leaned over to speak to the couple and said, "How are you holding up?" They told me that they had lost everything, but that the highest power will provide a way for them. WOW! Faith I said to myself. Then I asked the man who had no eyesight, but could hear very well. "What's the secret to a long life?" He responded, "Whatever your wife says, she is always right!" A moment of complete disaster, but yet they find a way to laugh. What a strong group of people!

It then hit me that these people have been in this water for days with nothing on and no food. There is no clinic or hospital to care for them. It had been washed away too. We need to act now I kept saying to myself, but how can I get people outside of Haiti, with no attachment to Haiti to care? How do I get them to pay attention to the forgotten?

8:00pm – On the way back to Port-au-Prince from Cabaret we stopped by the Prime Ministers office, Michèle Duvivier Pierre-Louis. She had just been appointed and her first weeks of working were under the most challenging environmental conditions. The country was obviously in a state of emergency and we were asked to continue the plight to get everyone in the world to help Haiti. We immediately began to reach out to the media and began a campaign at YÉLE.org where just five dollars could make a difference. That way anyone can do their part. As human beings we are put on the planet so that we can better one another; learn from one another; work with one another, and live for each other.

I suddenly felt like everything I have been doing was just not enough. We have to engage each other on a massive level. Haiti is a country that is in the back yard of so many powerful and rich countries, such as the United States. This is not some far away place! You can get there in 45 minutes from Miami, 2 hours from Texas, and 3 hours from New York!

12:00am – Went to sleep.
SUNDAY, SEPTEMBER 16, 2008:
6:00am – Breakfast and meeting with my YÉLE HAITI team to prepare everyone for the day.

8:00am – Depart hotel. We put on our boots to visit a town in the northern region of Haiti called Gonaives. The UN had provided helicopters for us to fly to the city which was hit the most. I was anxious about what I was going to see. After Hurricane Jeanne in 2004 I had gone to aid the people in refugee camps and it was some of the worst devastation I had seen. This time, the entire city was under water.

9:30am – Depart UN

It is a 40 minute helicopter ride from Port-au-Prince and I was told the food distributions in the city were not going well at all. This frustrated me. The people in Gonaives had not eaten for 12 days. The food distributions could not feed everyone and the people were attacking the aid workers. Then it hit me. The people of this city had not eaten in two weeks and have been in the water for the same amount of time. The food distribution was being done late at night and people were on the tin roofs of houses waiting for aid and rescue.

Once again, my stomach started to hurt. My eyes began to cry as I looked out the helicopter upon our approach to the city under water. This time I thought, "this is Katrina times a million!" We got out of the helicopters and I could immediately smell dead bodies throughout the village. We drove the trucks through the city. I broke my silence by saying to Matt, "people are not supposed to live like this." As I looked further I saw a kid without clothes on. He was walking in the water that was filled with body parts, dead cats, and remains. I cried when I looked into the child's eyes. I saw myself.

12:00pm – Helped with food distribution.

2:00pm – Meeting with officials of Gonaives and UN commanders

6:00pm – Depart for Port-au-Prince.

7:00pm – Take Matt to the airport to return to the United States. There is nothing better a friend could have done than what he did over those two days. I am eternally grateful.

8:00pm – Meeting with YÉLE HAITI staff and World Food Programme to discuss food distribution for the next month throughout the country but particularly Gonaives strategy, as it was hit the hardest.

9:30p – Dinner.

12:00am – Bedtime.
MONDAY, SEPTEMBER 17, 2008:
6:00am – Breakfast.

8:00am – Meet with YÉLE HAITI staff.

10:00am – Depart for airport.

This time, I feel like this trip has changed me forever. There is so much more to life than yourself. I only hope we can get people to follow us.