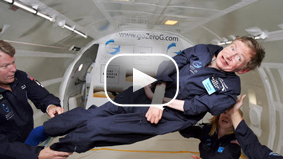 CNN's Becky Anderson holds an exclusive interview with scientist Stephen Hawking on his views of the world.
Becky Anderson | BIO
CNN International anchor
This was one of those moments in any journalist's career when you realize just how lucky you are to do your job. What wouldn't anyone give to get the chance to interview Isaac Newton or Albert Einstein? Professor Stephen Hawking is arguably our generation's most important scientist and this was my Eureka moment.
Aside from the rather vacuous fact that I'd get a chance to get my photo taken with this great man, getting to spend time in the presence of such a brilliant thinker was one of those rare opportunities in life when u sit back and think… wow.
He first achieved international fame with the publication of the scientific bestseller "A Brief History of Time 2 decades ago.
I have to admit that it's not easy to sit down with a man whose only means of communication is a sort of vague blinking of the eye. It's with a slight muscle twitch that he activates his voice synthesizer rigged up to a computer that's pre-loaded with the answers to my submitted questions. He is disabled by a condition that has left him almost completely paralyzed.
It was a humbling experience. And a real learning experience in life for me.
Just consider what he said: "I see great dangers for the human race. There have been a number of times in the past when its survival has been a question of touch and go. The Cuban missile crisis in 1963 was one of these. The frequency of such occasions is likely to increase in the future. We shall need great care and judgment to negotiate them all successfully. But I'm an optimist. If we can avoid disaster for the next two centuries, our species should be safe, as we spread into space."
"I don't think the human race has a moral obligation to learn about space, but it would be foolish and short sighted not to do so. It may hold the key to our survival," he told me.
I asked how his beliefs have shifted in the last 2 decades, to which he noted that the one major development that was not anticipated, was the discovery that the expansion of the universe is accelerating now, rather than slowing down.
Last year, Hawking took the skies above Florida and experienced zero-gravity onboard a commercial jet especially converted for weightless flights.
Now he is looking forward to a space flight of his own next year.
"The Zero G flight last year was wonderful. After 40 years in a wheelchair, it was so good to be floating free. But the flight was just a warm up for space. The real thing should be much better, and last much longer. The sky will be black, and the stars will shine brightly".
Thank you Professor Hawking.