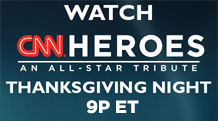 Program Note: CNN Heroes received nearly four thousand submissions from 75 countries. A Blue Ribbon Panel selected the Top 10 CNN Heroes for the year, and over 1 million of you voted for your CNN HERO OF THE YEAR
WATCH CNN HEROES: AN ALL-STAR TRIBUTE
A Global Celebration: Thanksgiving Night at 9p ET


____________________________________________________________________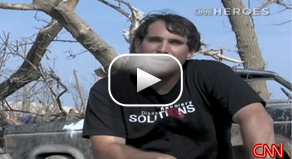 Tad Agoglia started the First Response Team to provide immediate help to areas hit by natural disasters.
Tad Agoglia | MY STORY
I would be happy to share my thoughts about being selected as one of the top ten with you. The past few weeks have been extremely challenging to me personally and this news could not have come at a better time.
For the past 17 months I have been traveling around the country responding to the 19 largest storms to hit the U.S. The question that so many reporters and victims have asked me is 'How do I pay for all this?' My answer was always simple and honest, from hurricane cleanup because they are the largest storms in scope, typically anticipated well in advance to allow for maximum preparedness and evacuation, and usually covering hundreds of miles from which offers of contractual work could bring in a few hundred thousand dollars, which in turn would keep The First Response Team funded.
With fuel prices rising, the economy threatened and more epic storms then ever in recorded history I knew it was a risk that I was taking to continue responding to disasters from coast to coast, but I was confident that I could replenish my bank accounts this 2008 Hurricane season.
Then Hurricane Ike hit the Texas coast. I had three contracts offered to me and everything was going as planned.
But even the best plans get thwarted by the unforeseen. I got injured. A large piece of glass fell on my foot and severed my tendons and nerves requiring a very invasive surgery to repair the damage, and the doctor said I would not be able to walk for 2-3 months.
I don't know how to share this very well, but this shattered my world. Here I was in a hospital bed, facing the reality that I have spent my life savings, any cash value in my business accounts, and now I would have to turn down three incredible contracts offered to my contracting company Disaster Recovery Solutions.
Meanwhile, The First Response Team was responding to Hurricane Ike, volunteering in Friendswood and offering their help in Galveston. I was hearing reports that many people were missing and the death toll was going to rise. I decided to come down to assess the response and a few days before I fell and re-injured myself. I remember feeling so humbled as I lay there on the ground in pain, so discouraged. For the first time I questioned whether starting The First Response Team was a mistake, one that would leave me financially depleted and unsure of how to continue to fund The First Response Team.
When I got the call from CNN, it was a huge affirmation at a critical time. I felt as if the CNN heroes' team and those they selected to be a part of the blue ribbon panel were saying "We believe in you and we believe in your dream; America does deserve this type of response".
With my injury forcing me to be inactive in the field, I decided to focus my attention on building the infrastructure and support system that The First Response Team needs for sustainability as a nonprofit entity. I believe the continuing coverage of The First Response Team will surely help to connect me with the sponsors I hope to assemble to keep this work going.
Please accept my heartfelt and sincere appreciation for the Heroes team and the blue ribbon panel for their support. It has given me the strength to continue on this marathon. CNN has gone beyond reporting on a simple news story about what some young man is doing with his company; CNN has personally encouraged me to keep on. When the next major ice storm or tornado unexpectedly hits a small community in rural America this winter or spring and The First Response Team responds, bringing help and hope to those in need, I will remember that the CNN family helped me to get there.
Thank you... With sincerity and appreciation
____________________________________
Want to do something? IMPACT YOUR WORLD