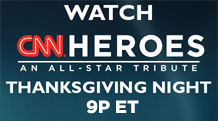 Program Note: CNN Heroes received nearly four thousand submissions from 75 countries. A Blue Ribbon Panel selected the Top 10 CNN Heroes for the year, and over 1 million of you voted for your CNN HERO OF THE YEAR
WATCH CNN HEROES: AN ALL-STAR TRIBUTE
A Global Celebration: Thanksgiving Night at 9p ET


____________________________________________________________________

Marie Da Silva | MY STORY
I received the call from the CNN producer on my cell phone when I was walking down the street in Santa Monica. When he told me I had been selected as a winner, I was screaming and crying on the street. People stopped to look at me. A lady came up to me to ask me if I was alright. I told her I was happy.
I could not believe it because just a few hours later, that very same day, I was on my way to Malawi to open the new secondary schoolblock we have just finished building.
I am very honored to be among many great heros of 2008. This award allows me to put the spotlight on the AIDS orphans of Malawi and show the world how education is important for them.
The school I have built will house 160 AIDS orphans who were unable to go to secondary school and graduate to go to university. Education opens doors to a better future for them.
I am very thankful for this recognition as it has helped me provide what I truly believe in. Thank you, CNN Heroes.