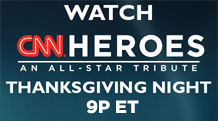 Program Note: CNN Heroes received nearly four thousand submissions from 75 countries. A Blue Ribbon Panel selected the Top 10 CNN Heroes for the year, and over 1 million of you voted for your CNN HERO OF THE YEAR
WATCH CNN HEROES: AN ALL-STAR TRIBUTE
A Global Celebration: Thanksgiving Night at 9p ET


____________________________________________________________________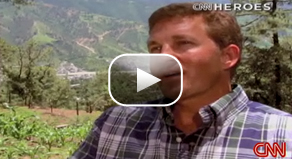 David Puckett's PIPO Missions brings prosthetic and orthotic care to people of southeastern Mexico - free of charge.
David Puckett | MY STORY
Wow…I don't know how to start…to have been selected as one of the ten honored Heroes – Of course I am honored, shocked, and just plain speechless…and if you ask any of my employees or friends of mine they would say that is a wow in itself.
While I am honored and flabbergasted (I know that this word is hardly used anymore)… I am excited about being chosen as one of the ten finalists in the CNN Heroes program. We will be able to improve and increase our outreach with a lot more money on the Medical Mission field in Mexico. Our goal has been to start a clinic where we can counsel, treat and deliver artificial limbs and orthopedic braces and store the supplies brought down there. This would be in Chiapas…the poorest per capita region in Mexico.
When this whole thing started, I thought, "Hmmm…this is interesting and a really cool program that CNN has put together, but I am just one guy going down to remote areas in Mexico doing what I love to do…help those who cannot help themselves and I am fortunate and blessed enough to be the mechanism through which to reach out the hand of God in love."
When I started reading the responses from donors and those interested in our program along with the comments on the CNN website, it about made me cry. I couldn't believe the people's wonderful comments and compliments. I had NEVER had such a barrage of compliments in my entire life. How honored and yet at the same time – how small I felt, as I read these wonderful comments from such wonderful people.
These last 8 weeks since this whole thing started, I have been swamped with new ideas about the missions outreach. We have always sought to treat as many patients as we could "afford" to see…that usually amounts to between 20-30 patients per trip. We currently are fabricating over 20 legs, arms and braces for patients that we have seen over the last 6 weeks in Merida, the outlying villages and Chiapas.
We are still fielding the enormous amount of phone calls, emails and letters of interest that we have received since the CNN story broke.
____________________________________
Want to do something? IMPACT YOUR WORLD