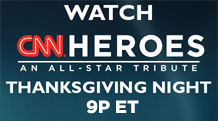 Program Note: CNN Heroes received nearly four thousand submissions from 75 countries. A Blue Ribbon Panel selected the Top 10 CNN Heroes for the year, and over 1 million of you voted for your CNN HERO OF THE YEAR
WATCH CNN HEROES: AN ALL-STAR TRIBUTE
A Global Celebration: Thanksgiving Night at 9p ET


____________________________________________________________________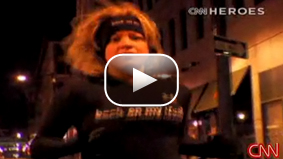 Anne Mahlum used to run by homeless men each day. Now, she's running with them in an effort to get them back on their feet.
Anne Mahlum | MY STORY
I'm so very honored to be included among the top heroes. But, this award isn't a solo mission. Soooo many people have contributed to building Back on My Feet.
So when I got the call, I was sitting at home on my couch working. When I was told that I was chosen as a top hero, I was in awe.
I'm not a hero – I'm just following my heart and doing what feels right, which is what I think we're all trying to do. Back on My Feet is my purpose in this world and I know I'm lucky to have found it at a young age.
I am certain, with all my heart , that I was put here to help people discover themselves by pushing themselves further than they thought possible. I want to inspire people to do something extraordinary with the fire that lives inside them.
____________________________________
Want to do something? IMPACT YOUR WORLD