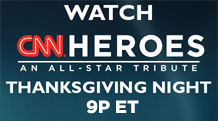 Program Note: CNN Heroes received nearly four thousand submissions from 75 countries. A Blue Ribbon Panel selected the Top 10 CNN Heroes for the year, and over 1 million of you voted for your CNN HERO OF THE YEAR
WATCH CNN HEROES: AN ALL-STAR TRIBUTE
A Global Celebration: Thanksgiving Night at 9p ET


____________________________________________________________________
Maria Ruiz of Texas regularly crosses the border into Mexico with food, clothing and toys for impoverished families.
Maria Ruiz| MY STORY
When I got the call I was barely getting home.
As I walked into my bedroom, he told me the great news. I was shocked, surprised, excited!
My feelings, emotions, and heart were going 100 miles per hour all at the same time!
As I talked on the phone tears ran down my cheeks. I thanked God. It was unexpected to hear such awesome news.. I couldn't believe it!
I think I am still under shock and I think it still hasn't sunk in yet!
Thank you for all you have done. May God bless you abundantly.
____________________________________
Want to do something? IMPACT YOUR WORLD