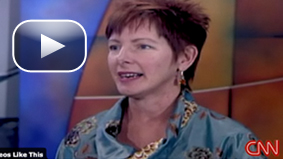 The Jewel of Medina is just the latest book to set up a wave of anger that could insult Islam. CNN's Paula Newton reports.
Paula Newton | BIO
International Security Correspondent

Anjem Choudary practises and preaches Islamic Sharia law. When we discussed the book, 'The Jewel of Medina', and the insult that he believes it brings upon the Prophet Mohammed, he could not have been more categorical: The punishment is death.
So I asked him about the personal security of the book's American author, Sherry Jones.
"You think her life would be in danger?" I asked Choudary.
"I think certainly, you know there will be consequences for her"
We reached Sherry Jones in her hometown of Spokane, Washington. She told us despite firebombs and threats, she is not afraid.
"This is beyond me, this is a bigger responsibility than me. This is not about whether I live or die. This is about the future of the free world, the future of democracy and the future of freedom of speech. So I'm not going to abdicate that responsibility as others have and walk away because someone might try to harm me."