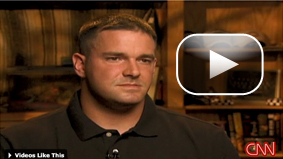 Watch David Mattingly's report earlier this year on a Chicago cop says he was wrongly convicted for his role in an off-duty fight.
Editor's Note: The Iowa Court of Appeals overturned the assault conviction of former Chicago police officer Michael Mette and ordered him acquitted. Mette was a four-year veteran of the police department when he was found guilty in 2007 of assault causing serious injury in connection with a fight two years earlier. Jacob Gothard was left with brain hemorrhages and a broken nose, cheekbone and jaw. Mette has served 11 months of a 5-year sentence.
David Mattingly | BIO
AC360° Correspondent
After 11 months behind bars, Mike Mette is vindicated.
The Iowa appeals court ruling agrees that he acted in self defense when he punched a drunk college student during an off-duty argument. It is a day of celebration for a large group of his supporters in Chicago.
Led by Mette's father, the movement to "free Mike Mette" even reached the mayor of Chicago.
It will be interesting to see if Mette will return to being a police officer.