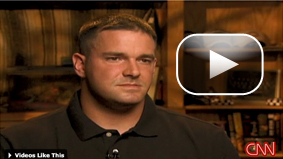 A Chicago cop says he was wrongly convicted for his role in an off-duty fight. We look back at CNN's David Mattingly's report.
David Mattingly | BIO
AC360° CorrespondentRemember Michael Mette? He's the Chicago cop I profiled a year ago. Mette is serving 5 years in an Iowa prison for - he says - punching a guy once. The local prosecutor says Mette must have hit the victim repeatedly. Mette was off-duty with some friends and says he hit the guy once in self-defense. Mette just got finished appealing his sentence and could hear any day now that Iowa's Court of Appeals has reversed his conviction.
He sat down with local Chicago site, Windy Citizen. Check it out.