Editor's Note: Frank Sesno co-moderated last week's "The Next President: A World of Challenges; 5 former Secretaries of State share what advice they have for "The Next President." (WATCH HERE) Frank shares his thoughts on the first Presidential debate:
____________________________________________________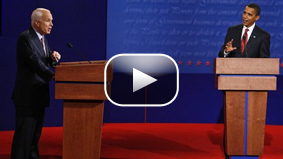 Watch Sen. John McCain and Sen. Barack Obama debate the financial crisis and foreign policy in the first Presidential debate
Frank Sesno | BIO
CNN Special Correspondent
Okay. So the debate featured a few good moments but no knock-out blows. McCain attacked Obama's experience and Obama challenged McCain's judgment. But both candidates left a lot out. Partly because the time and questions were limited. Partly because they wanted to.
Let's start with Iran.
John McCain didn't say what he'd actually do if the Iranians called up and said, "Hey, we're ready to talk. You don't trust us and we don't trust you but we'll try this one again as long as you give us a little respect." Just how would President McCain handle that call? Take it? Ignore it? Say he'd talk but only after the Iranians sign a friendship pledge and shut down their nuclear program? (We know that when a similar missive came in 2003, the Bush administration didn't even write back.) For all the discussion about conditions and pre-conditions, just how does John McCain propose to deal with Tehran?
Senator, your answer please.
On the other side of the stage, Barack Obama didn't say what he'd do if, as he was talking, the Iranians shook with the right hand and kept enriching uranium with the left. That's what they've been doing for years. They've talked to the Europeans, talked to the International Atomic Energy Agency, talked to the world even as they added thousands of centrifuges to their uranium enrichment capacity and tested scary new missiles. Talking is worth another try. That's what all those former Secretaries of State told us when Christiane Amanpour and I had that discussion Obama referred to. But what will President Obama do if talking doesn't work? He didn't say.
Here are some more things they didn't say.
They didn't say what they'd do if bully Russia turns off the gas again this winter. It gets pretty cold in Ukraine and Georgia in January – right around inauguration time in the United States. Russia's a huge gas producer. Getting richer by the day. Talk about leverage. Then what?
They didn't say how they'd get a more help in Afghanistan, which is supposed to be a war that NATO is committed to winning. Some alliance. Washington's asked for additional troop commitments. NATO's ducked. The U.S. leads NATO. Mr. Future President, any ideas?
They didn't say how they'd get Arab countries to do more in Iraq. It's their neighborhood after all. Sure, the U.S. military strategy matters. But what about diplomacy and the regional responsibility. How's the next president make that happen?
The list goes on.
They didn't debate Darfur or say how they'd handle the larger middle east. They didn't talk about how the financial crisis will reduce America's clout in the world or how we've got to live within our means. They didn't discuss what they'd do if China stopped buying our debt or started dumping dollars. They didn't debate exactly how they'd restore America's image in the world or what they'd do to address global poverty, disease and climate change.
Too bad. We might have learned a lot more about them and about the world as they see it.
Candidates leave things out if they're too complicated or if they muddy the story line. They know they won't win if they sound pessimistic or make the issues seem overwhelming. But it's a pretty overwhelming world right now. And whoever wins in November is going to have to navigate it.
Back to that conversation with the five Secretaries of State again. Madeleine Albright put it best. "Remember," she said, "you wanted this job."
So how about a little more meat on those debating bones?
Say it like it is. We can handle it.