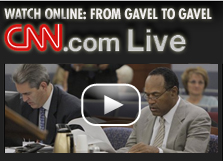 Editor's Note:
O.J. Simpson is on trial for robbery and kidnapping charges nearly a year after police arrested him in Las Vegas, Nevada. Prosecutors say Simpson and five other men stormed into a Las Vegas hotel room last September 13 to recover sports memorabilia that Simpson said belonged to him. They say at least two men with Simpson had guns as they robbed two sports memorabilia dealers. The following dispatches come from our Paul Vercammen covering the trial.
--------------------------–
[cnn-photo-caption image=http://i2.cdn.turner.com/cnn/2008/images/09/26/art.ojtrial2.jpg]
Paul Vercammen
CNN Senior Producer
Were Vegas Cops out to get O.J?
That's what his defense team wants you to believe.
And on cross examination of lead detective Andy Caldwell Friday, defense lawyer Gabe Grasso was able to play eyebrow raising secret recordings after the alleged armed robbery.
The recording of police in the room contains expletives and unflattering remarks seemingly about Simpson.
Grasso tried to hammer into the focused jurors' minds that the police transcription by Caldwell, of sting middleman Tom Riccio's recordings, are inaccurate and biased against Simpson.
At one point the courtroom tensed up when someone apparently linked to the police, after the alleged armed robbery said "California can't (bleeping) get it done, now we'll get it done."
The defense will argue the police were talking about arresting Simpson and the detective's transcript did not contain the expletive..
But Caldwell's testimony also provided the prosecution with evidence that Simpson made a flurry of phone calls to alleged co-conspirators.
The calls were made before and after the incident at the Palace Station Hotel.
Caldwell testified the calls made after the sports memorabilia sting concerned him because he's (Simpson) trying to affect outcome of the case."
In more stark words, the prosecution will say Simpson got on the phone to try to convince witnesses to save his neck.