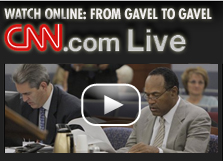 Editor's Note:
O.J. Simpson is on trial for robbery and kidnapping charges nearly a year after police arrested him in Las Vegas, Nevada. Prosecutors say Simpson and five other men stormed into a Las Vegas hotel room last September 13 to recover sports memorabilia that Simpson said belonged to him. They say at least two men with Simpson had guns as they robbed two sports memorabilia dealers. The following dispatches come from our Paul Vercammen covering the trial.
--------------------------–
[cnn-photo-caption image=http://i2.cdn.turner.com/cnn/2008/images/09/26/art.oj.question.jpg]
Paul Vercammen
CNN Senior Producer
10:26a PT

The Clark County Court information office reports, the O.J. Simpson jury is made up of 11 white jurors and one female "hispanic juror of Mexican decent."
The information was derived from looking at the juror questionnaires, according to court spokesman Michael Sommermeyer.
Reports of the panel being "all white" had been called into question and CNN and other news organizations had been pressing the court to reveal details of the jurors make up from the questionnaires.
The main panel is made up of nine women and three men.
The alternate panel includes a Black male and a Black female.