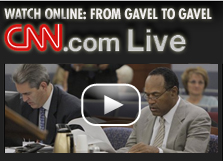 Editor's Note:
O.J. Simpson is on trial for robbery and kidnapping charges nearly a year after police arrested him in Las Vegas, Nevada. Prosecutors say Simpson and five other men stormed into a Las Vegas hotel room last September 13 to recover sports memorabilia that Simpson said belonged to him. They say at least two men with Simpson had guns as they robbed two sports memorabilia dealers. The following dispatches come from our Paul Vercammen covering the trial.
--------------------------–
[cnn-photo-caption image=http://i2.cdn.turner.com/cnn/2008/images/09/26/art.ojtrial.jpg]
Paul Vercammen
CNN Senior Producer
7:55a PT

O.J. Simpson entered the courthouse in Las Vegas Friday for what's expected to be an all out attack on him from the witness stand.
The prosecution in the Simpson armed robbery and kidnapping trial is looking for one of its final witnesses, gunman Michael "Spencer" McClintion, to blast away at the celebrity defendant.
Witnesses in the case say McClinton pulled a gun and threatened victims in the alleged armed robbery at the Palace Station Hotel.
The prosecution is looking for McClinton to testify he was simply following a plan laid out by Simpson.
The defense has maintained Simpson knew nothing about guns and had no control over McClinton heard swearing and screaming and during the secret audio recording of the incident.
When Simpson arrived at the courthouse Friday, he said "all is sad in Mudville, mighty USC struck out."
Simpson was alluding to his alma mater's stunning loss Thursday night to Oregon State in a nationally televised college football game.