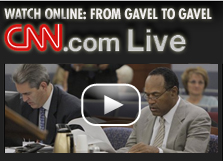 Editor's Note:
O.J. Simpson is on trial for robbery and kidnapping charges nearly a year after police arrested him in Las Vegas, Nevada. Prosecutors say Simpson and five other men stormed into a Las Vegas hotel room last September 13 to recover sports memorabilia that Simpson said belonged to him. They say at least two men with Simpson had guns as they robbed two sports memorabilia dealers. The following dispatches come from our Paul Vercammen covering the trial.
--------------------------–
[cnn-photo-caption image=http://i2.cdn.turner.com/cnn/2008/images/09/25/art.simpson.gilbert.jpg caption="Former O.J. Simpson agent Mike Gilbert points to Simpson as he testifies during Simpson's trial."]
Paul Vercammen
CNN Senior Producer
Former O.J. Simpson agent Mike Gilbert testified briefly Thursday that he was given sports memorabilia by the ex football star.
Judge Jackie Glass limited Gilbert's testimony to extremely narrow discourse about receiving footballs and related material linked to Simpson allegedlly masterminding an armed robbery last year.
But outside the courtroom, Gilbert sounded off.
"This (Simpson) is a really bad guy who has lived down to the lowest expectations of America."
Gilbert went on to say that Simpson was given a second chance in life by being acquitted of the murders of Nicole Brown Simpson and Ron Goldman, but did nothing with the opprtunity.
"Everything from drug use to the way he talks to his kids," Gilbert said leaving the courthouse.
Gilbert also said he was not concerned with his limited testimony Thursday in the current robbery case, but is "more concerned that the State of Nevada get a fair trial."