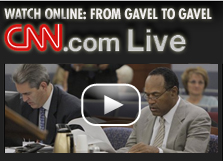 Editor's Note:
O.J. Simpson is on trial for robbery and kidnapping charges nearly a year after police arrested him in Las Vegas, Nevada. Prosecutors say Simpson and five other men stormed into a Las Vegas hotel room last September 13 to recover sports memorabilia that Simpson said belonged to him. They say at least two men with Simpson had guns as they robbed two sports memorabilia dealers. The following dispatches come from our Paul Vercammen covering the trial.
--------------------------–
[cnn-photo-caption image=http://i2.cdn.turner.com/cnn/2008/images/09/25/art.vert.oj.smilingincourt.jpg width=292 height=320]
Paul Vercammen
CNN Senior Producer
4:15p PT
Alfred Beardsley called his arch enemy Tom Riccio a con man, a rat and a knucklehead and that was just for starters.
   
What the defense team hopes is more damaging, the afternoon witness called into question the authenticity of a secret recording Riccio made during the alleged O.J. Simpson armed robbery in Las Vegas.
   
"It's a work of art," Bearsley testified.
    
Beardsley said he could not authenticate the recording and implied it was doctored.
    
"Mr. Riccio's conduct immediately after was suspicious," Bearsley testified.
   
"He took a recording with him back to L.A where they have nothing but production houses that can change or alter the recording to his liking."     
Beardsley is suing Riccio in civil court and has testified Riccio has counter sued.
Riccio has called Beardsley criminally insane and has said he burned him in a prior business dealing.
Bearsley is currently imprisoned on a parole violation that his lawyer says stems from him trying to contact Riccio through a third party.
Beardsley stated he did not want to testify in the Simpson armed robbery trial.
He added that Simpson was targeted by Riccio.
Beardsley said he is not a victim.