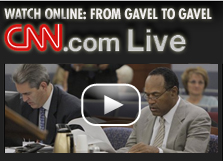 Editor's Note:
O.J. Simpson is on trial for robbery and kidnapping charges nearly a year after police arrested him in Las Vegas, Nevada. Prosecutors say Simpson and five other men stormed into a Las Vegas hotel room last September 13 to recover sports memorabilia that Simpson said belonged to him. They say at least two men with Simpson had guns as they robbed two sports memorabilia dealers. The following dispatches come from our Paul Vercammen covering the trial.
--------------------------–
[cnn-photo-caption image=http://i2.cdn.turner.com/cnn/2008/images/09/24/art.oj.question.jpg]Paul Vercammen
CNN Senior Producer
10:54AM PT
A middle-aged man was ejected from the courtroom in the O.J. Simpson armed robbery and kidnapping trial after he took a step toward the witness stand.
Courtroom Marshals said the man in the gallery walked up and said I have a question.
While being escorted in handcuffs to the elevator, the man said "yes, I realize now I crossed the line."
He is the second person in the gallery ejected from the courtroom since the trial began.
On deck to testify is Simpson's former manager, Mike Gilbert. Gilbert has dealt in Simpson memorabilia and his name has come up occasionally in testimony.
Simpson and Gilbert have had a falling out. Gilbert wrote the damning book, "How I Helped O.J. Get Away With Murder: The Shocking Inside Story of Violence, Loyalty, Regret and Remorse."
In the book, Gilbert alleged that a a groggy Simpson, high on marijuana, confessed to killing his ex-wife after he was acquitted. He also claims that he helped his former friend wiggle out of the murder charges by suggesting how to bloat his hands so they wouldn't fit the notorious bloody gloves.
None of this will come in at the trial, though, because Judge Jackie Glass has not be allowing testimony about Simpson's previous criminal and civil trials at the armed robbery trial.