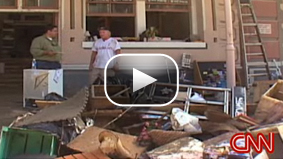 Galveston business owners worry the financial crisis will slow efforts to rebuild after Ike. CNN's Ed Lavandera reports.
Ed Lavandera | BIO
CNN Correspondent

"It's never a good time to ask for money." Those were the rather understated words of Jeff Sjostrom, the President of Galveston's Economic Development Partnership (Think of the partnership as the island's Chamber of Commerce), when I asked him if he was worried that Texas officials were asking Congress for more than $11-billion on the same day the $700-billion bailout was being negotiated on Capitol Hill.
As hundreds of residents returned to Galveston Island to clean up it dawned on me that most of these residents have been so overwhelmed with the aftermath of Hurricane Ike that they'd probably heard very little about the collapsing financial markets.
As I walked the downtown Galveston area known as "The Strand," most small business owners had barely heard any of this news. Who can blame them really? If you're not sure your business will survive or your home is in ruins you probably don't really care to read other depressing news.
But there is concern among the small business owners in The Strand that the struggling economy will slow down the rebuilding in Galveston.
"This is insult to injury here," Garry Depringre, the owner of Surf Styles told me. "We're going to need some help. We have to have help man. I can't do this on my own."
The downtown tourist businesses were hard hit. Most stores took on 8 feet of floodwater. Tourism makes up about a third of the island's economy. So it's crucial for these tourists to come back soon. But if economy is struggling will they return?
Another area of concern is the wiped-out and pricey beach homes on the west side of Galveston Island and Bolivar Peninsula. These are areas that make up about 45% of the island's tax base. But there are several hundred homes that might not be rebuilt. What kind of impact will that have on the island's economy?
But island officials, like Jeff Sjostrom, say they're confident the economy will bounce back better than ever. I guess after a double whammy strike like Hurricane Ike and a financial collapse it's good to have people around who see the silver lining.