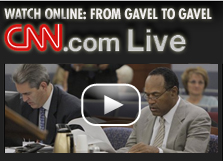 Editor's Note:
O.J. Simpson is on trial for robbery and kidnapping charges nearly a year after police arrested him in Las Vegas, Nevada. Prosecutors say Simpson and five other men stormed into a Las Vegas hotel room last September 13 to recover sports memorabilia that Simpson said belonged to him. They say at least two men with Simpson had guns as they robbed two sports memorabilia dealers. The following dispatches come from our Paul Vercammen covering the trial.
--------------------------–
Prosecution witness, Walter Alexander, says he "truly believes now" that he and O.J. Simpson were participating in a robbery.
Did he really ask him to back away? did he really say "because you smell?"
Check out the video below of Walter Alexander on the witness stand: