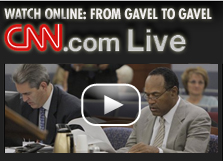 Editor's Note:
O.J. Simpson is on trial for robbery and kidnapping charges nearly a year after police arrested him in Las Vegas, Nevada. Prosecutors say Simpson and five other men stormed into a Las Vegas hotel room last September 13 to recover sports memorabilia that Simpson said belonged to him. They say at least two men with Simpson had guns as they robbed two sports memorabilia dealers. The following dispatches come from our Paul Vercammen covering the trial.
--------------------------–
[cnn-photo-caption image=http://i2.cdn.turner.com/cnn/2008/images/09/24/art.oj.question.jpg]Paul Vercammen
CNN Senior Producer
5:12PM PT
The 13th prosecution witness testified Wednesday afternoon in the O.J. Simpson armed robbery and kidnapping case and spun more tales of guns being present at the incident.
Charles Cashmore, one of four men to make a plea deal in the case, testified he saw two men in the Simpson entourage had guns during the sting at the Palace Station Hotel.
Cashmore will resume testifying tomorrow morning.
Next up on the stand is expected to be either Michael McClinton or imprisoned Alfred Bearsley.
McClinton, according to testimony, pointed a gun at the alleged victims' heads during the incident.
McClinton made a plea deal with the prosecution.
Bearsley is the Simpson collector who told police he was robbed by O.J. Simpson but now says he is not a victim.
Bearsley was thrown into a California prison on a parole violation.