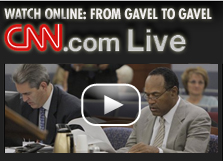 Editor's Note:
O.J. Simpson is on trial for robbery and kidnapping charges nearly a year after police arrested him in Las Vegas, Nevada. Prosecutors say Simpson and five other men stormed into a Las Vegas hotel room last September 13 to recover sports memorabilia that Simpson said belonged to him. They say at least two men with Simpson had guns as they robbed two sports memorabilia dealers. The following dispatches come from our Paul Vercammen covering the trial.
--------------------------–
[cnn-photo-caption image=http://i2.cdn.turner.com/cnn/2008/images/09/24/art.vert.oj.galanter.jpg caption="O.J. Simpson's attorney Yale Galanter speaks during Simpson's trial in Las Vegas, Wednesday." width=292 height=320]Paul Vercammen
CNN Senior Producer
3:30PM PT
O.J. Simpson's defense attorney unleashed a scorching cross examination of prosecution witness Walter Alexander, but was unable to delve into questions about possible unsavory business activity.
Simpson attorney Yale Galanter says Alexander made money as a pimp.
Judge Jackie Glass did not allow the Simpson defense to pursue the alleged pimp angle.
In a heated exchange, when Galanter was grilling him about previous testimony, Alexander told the Simpson lawyer to "back away from me."
Galanter tried to show the jury Alexander was once facing 11 criminal counts in the case, but has thus far spent just 12 hours in jail in exchange for his cooperation.
Earlier in the day, Alexander said Simpson tried to cover up that he and another former co-defendant in the armed robbery trial brought guns to the sports memorabilia sting.