[cnn-photo-caption image=http://i2.cdn.turner.com/cnn/2008/images/09/23/art.wasilla.jpg]
Tracy Sabo
CNN Senior Producer
For the last two days, I have driven from Anchorage to Wasilla, AK in an attempt to speak with Gov. Palin's pastor as well as an African Bishop, Thomas Muthee, who is visiting the Wasilla Assembly of God Church for several days.
As soon as Photographer Dominic Swann and I turned off the Glenn Highway just short of Wasilla, it was clear that "Palin Fever" was catching in the Alaskan Governor's hometown of about 7,000 people. The local movie theater marquis read "Good Luck Sarah" followed by the names of several movies now showing. Several rear windows of cars and SUVs had been painted in shoe polish or shaving cream as if their hometown hockey team was competing for a state championship… only all these makeshift banners read, "Go Sarah!" or "McCain-Palin" or "Sarah for V.P."… or something similar.
We arrived earlier than expected into Wasilla and the temperatures were starting to drop (only 45 degrees when we arrived). So, we decided to stop at a local coffee "hut" for something quick to go. I call it a "hut" because in Alaska, most coffee shops are simple, square-frame, wooden structures placed in parking lots or along highways and serving only "drive-up" customers who would rather stay warm in their cars while ordering.
We should have been tipped by the large, red "Palin Fever" sign mounted on the side of the hut… but it still surprised us to see the entire "coffee specials" menu had been renamed to include, "The Road to the White House," a 16 oz. Rocky Road White Chocolate Mocha.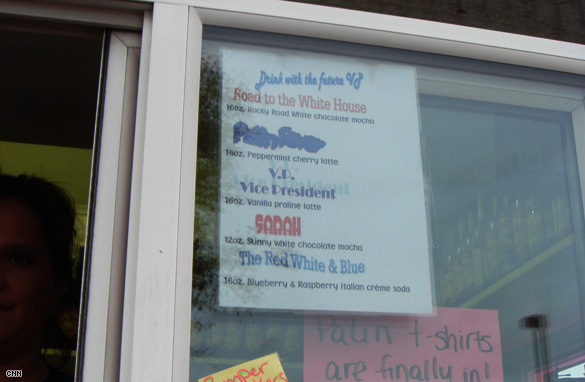 There was also the "Sarah," a 12 oz. Skinny White Chocolate Mocha, and the "Vice President," a 16 oz. Vanila Praline Latte and even a "Red, White & Blue," which was a 16 oz. Blueberry & Raspberry Italian Creme Soda. In addition to coffee and cream soda, this coffee hut was also now selling "Palin Fever" pins, t-shirts and bumper stickers. The young barista excitedly told us, "These t-shirts just came in, and we're getting some other ones later this week!"
Political season in any town is usually marked with an air of excitement, some heated local debate, a multitude of campaign yard signs usually on the same corner, and feuding bumper stickers (sometimes even on the same car). However, after two day- trips to Wasilla, I couldn't help but notice that there seemed to be no obvious competition here at all. From what I could see, this town looks to have made it's choice, and the latest national polls showing an incredibly tight race don't appear to have anyone in Wasilla worried in the slightest.