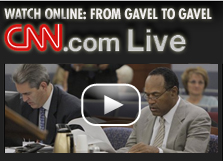 Editor's Note:
O.J. Simpson is on trial for robbery and kidnapping charges nearly a year after police arrested him in Las Vegas, Nevada. Prosecutors say Simpson and five other men stormed into a Las Vegas hotel room last September 13 to recover sports memorabilia that Simpson said belonged to him. They say at least two men with Simpson had guns as they robbed two sports memorabilia dealers. The following dispatches come from our Paul Vercammen covering the trial.
--------------------------–
[cnn-photo-caption image=http://i2.cdn.turner.com/cnn/2008/images/09/22/art.oj.erlich.jpg caption="Charles Ehrlich testifies during O.J. Simpson's trial in Las Vegas, Monday."]Paul Vercammen
CNN Senior Producer
5:29p PT
The first of four witnesses who made plea deals with the prosecution in the O.J. Simpson robbery and kidnapping case took the witness stand Monday afternoon.
The friend of Simpson was part of the entourage of men who entered the Palace Station Hotel in a sting to get sports memorabilia.
Erlich testified that he has said he heard Simpson say during the incident "put the guns away."
Erlich also said after the showdown in the room, "he (Simpson) was in denial" about guns being used.
Erlich will retake the stand for cross examination Tuesday morning.