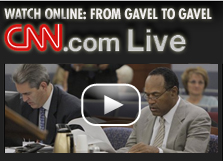 Editor's Note:
O.J. Simpson is on trial for robbery and kidnapping charges nearly a year after police arrested him in Las Vegas, Nevada. Prosecutors say Simpson and five other men stormed into a Las Vegas hotel room last September 13 to recover sports memorabilia that Simpson said belonged to him. They say at least two men with Simpson had guns as they robbed two sports memorabilia dealers. The following dispatches come from our Paul Vercammen covering the trial.
--------------------------–
[cnn-photo-caption image=http://i2.cdn.turner.com/cnn/2008/images/09/22/art.ojcourt2.jpg]
Paul Vercammen
CNN Senior Producer
10:15 am PT
As the O.J. Defense team begins cross examining Tom Riccio, the lawyers continue what seems to be a game of "break the momentum."
Both sides have used objections and asked for bench conferences throught the trial. At times it feels like a basketball coach calling timeout to slow down the opponents.
The cross examination of Riccio has gotten extremely problematic as Judge Glass has repeatedly told the witness to just answer yes or no and not offer explan
8:05 am PT
O.J. Simpson arrived at the courthouse just before 8 this morning for what promises to be a day of heated cross examination by his defense team.
After the prosecution finishes questioning collectibles dealer Tom Riccio, Simpson's lawyers will grill the chatterbox witness about conflicts in testimony over the kidnapping and armed robbery charges.
Riccio helped set up the sting for Simpson to get back belongings and sports memorabilia.
Riccio also secretly recorded conversations before, during and after the deal that went sour in the Palace Station Hotel.