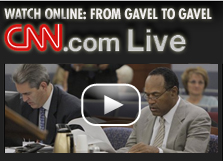 Editor's Note:
O.J. Simpson is on trial for robbery and kidnapping charges nearly a year after police arrested him in Las Vegas, Nevada. Prosecutors say Simpson and five other men stormed into a Las Vegas hotel room last September 13 to recover sports memorabilia that Simpson said belonged to him. They say at least two men with Simpson had guns as they robbed two sports memorabilia dealers. The following dispatches come from our Paul Vercammen covering the trial.
--------------------------–
[cnn-photo-caption image=http://i2.cdn.turner.com/cnn/2008/images/09/19/art.oj.headphones.jpg]Paul Vercammen
CNN Senior Producer
3:21PM PT
The O.J. Simpson armed robbery and kidnapping trial ended the week's testimony with more tape recordings from wheeler dealer Tom Riccio.
The final three recordings were of phone conversations between Riccio and Simpson after the incident.
Simpson could be heard repeatedly saying he did not know someone pulled a gun at the Palace Station Hotel room.
The jury also listened to Riccio's recording of the alleged "armed robbery."
The panel took notes, eight of them listening on head phones to voices in the hotel room including someone who sounded like Simpson screaming expletives, "you think you can steal my stuff?"
Court will resume Monday with Riccio on the stand.
Once the prosecution finishes it will be the defense attorneys to unleash what's expected to be a blistering cross examination of Riccio.