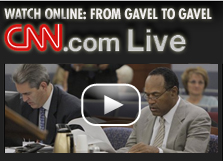 Editor's Note:
O.J. Simpson is on trial for robbery and kidnapping charges nearly a year after police arrested him in Las Vegas, Nevada. Prosecutors say Simpson and five other men stormed into a Las Vegas hotel room last September 13 to recover sports memorabilia that Simpson said belonged to him. They say at least two men with Simpson had guns as they robbed two sports memorabilia dealers. The following dispatches come from our Paul Vercammen covering the trial.
--------------------------–
Paul Vercammen
CNN Senior Producer
8:50a PT
O.J. Simpson has arrived at the Clark County Regional Justice center almost an hour later than usual due to a jury tour of the Palace Station Hotel.
8:40a PT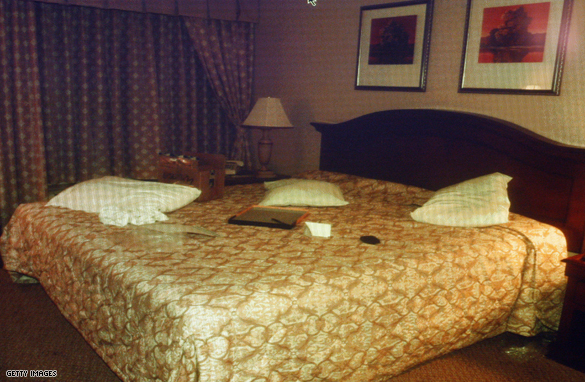 A photo of a Palace Station hotel room where O.J. Simpson allegedly commited felony kidnapping, armed robbery and conspiracy related to a confrontation with sports memorabilia dealers
________________________________________
Sommermeyer reports the tour was arranged in a Thursday night deal with the Palace station Hotel.
"The lawyers are stayed outside the hotel while the jurors looked over the room."
Sommermeyer said the jury was at one point going to tour a replica of the alleged crime scene built in the basement of the courthouse.
But according to the court, Judge Jackie Glass was "unimpressed with the replica room constructed by the district attorney.".
The court spokesman adds Glass reversed an earlier view that the jury should not go off site to see the hotel room and the tour was worked out.
8:31a PT
Court spokesman Michael Sommermeyer told CNN the Simpson panel of nine women and three men just finished looking at room 1203 in the Palace Station Hotel and Casino.
"The jury was led in by marshals and looked around the room," Sommermeyer added.
"Some of them reached up at put their hand on top of an armoire."
Key prosecution witness Tom Riccio says he hid a tape recorder on top of the hotel room armoir and recorded the alleged robbery.
Simpson and five other men allegedly stormed into that room September 13 of last year.
8:12a PT
The jury in the O.J. Simpson trial is touring the Palace Station Hotel room where the alleged armed robbery and kidnapping took place, according to Clark County Court sources.
8:04a PT   
Tom Riccio, the chatterbox wheeler dealer who set up the Simpson meeting to "get his stuff back," arrived just before 8 a.m.
Riccio will retake the witness stand today and more of his secretly recorded tapes before and during the alleged armed robbery will be played.