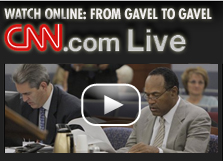 Editor's Note:
O.J. Simpson is on trial for robbery and kidnapping charges nearly a year after police arrested him in Las Vegas, Nevada. Prosecutors say Simpson and five other men stormed into a Las Vegas hotel room last September 13 to recover sports memorabilia that Simpson said belonged to him. They say at least two men with Simpson had guns as they robbed two sports memorabilia dealers. The following dispatches come from our Paul Vercammen covering the trial.
--------------------------–
Paul Vercammen
CNN Senior Producer
One of the lawyers in the O.J. Simpson and Clarence Stewart armed robbery and kidnapping trial knows all about being arrested and being locked up.
E. Brent Bryson was accused of manslaughter for the death of a man in Wyoming in the early 1980s
"I have a little insight that a lot of guys (defense lawyers) don't," the third attorney added to the Stewart defense team told CNN. "I know what if feels like to sit in that chair."
The event that led Bryson to that defendant's chair was a 45 second fight in a Casper lounge.
"I was a professional musician playing with my band," the 51 year old remembers.
During the band's break, Bryson was attacked by a patron who accused him of taking his seat next to two women.
In a bloody brawl the assailant's neck was cut by a broken wine glass.

The man died.
Bryson was arrested, charged with manslaughter and spent four days in jail.
"I was in there with four or five other men, all accused of murder," Bryson said. "It was intimidating. All of them except me were found guilty."
A Casper Wyoming jury acquitted Bryson, ruling he was defending himself. But Bryson says a court employee reading the verdict incorrectly said "guilty" first.
"I knew she was wrong because God had other plans for me."
The correction to "Not Guilty" was read. Bryson then started down road to becoming a defense attorney. Bryson freely cites Divine-Intervention for changing his life.
At times he cross examines witnesses in a Las Vegas courtroom with an almost religious zeal.
Bryson says he is taking a "cut rate" to represent Stewart.
When it comes to defending his clients, the lawyer acquitted of manslaughter says, "hopefully I have a little understanding"