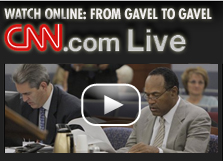 Editor's Note:
O.J. Simpson is on trial for robbery and kidnapping charges nearly a year after police arrested him in Las Vegas, Nevada. Prosecutors say Simpson and five other men stormed into a Las Vegas hotel room last September 13 to recover sports memorabilia that Simpson said belonged to him. They say at least two men with Simpson had guns as they robbed two sports memorabilia dealers. The following dispatches come from our Paul Vercammen covering the trial.
--------------------------–
[cnn-photo-caption image=http://i2.cdn.turner.com/cnn/2008/images/09/18/art.ojsimpson2.jpg
caption="O.J. Simpson speaks to a member of his defense team."]
Paul Vercammen
CNN Senior Producer
11:39am PT
Judge Jackie Glass called an unusual early lunch break as the attornies whizzed through three police witnesses.
Simpson defense attorney Yale Galanter hammered away at detective Andy Caldwell.
Galanter asked Caldwell about an audio recording in which officers could be heard allegedly saying 'They didn't get him (Simpson) in California, we're going to get him now."
The detective said he did not recall hearing those words.
Court broke at 11:15 and resumes at 12:30pm PT.