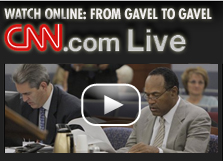 Editor's Note:
O.J. Simpson is on trial for robbery and kidnapping charges nearly a year after police arrested him in Las Vegas, Nevada. Prosecutors say Simpson and five other men stormed into a Las Vegas hotel room last September 13 to recover sports memorabilia that Simpson said belonged to him. They say at least two men with Simpson had guns as they robbed two sports memorabilia dealers. The following dispatches come from our Paul Vercammen covering the trial.
--------------------------–
[cnn-photo-caption image=http://i2.cdn.turner.com/cnn/2008/images/09/16/art.oj.lawyers.9.16.08.jpg]
Paul Vercammen
CNN Senior Producer
5:52PM PT
Two different video surveillance experts took the afternoon witness stand in the O.J. Simpson trial.
The prosecution led the video security experts down a video path of showing where Simpson and five cohorts ventured the day of the fateful showdown over sports memorabilia at the Palace Station Casino.
The question hanging out there is who is telling the truth about the Simpson six and what was their intent.
The jurors watched monitors and took notes in what could be called the calm after the storm.
Tuesday afternoon's techy testimony was far different from the morning mania - when Judge Jackie Glass repeatedly raised her voice and tried to rein in lawyers.
The jurors also listened to afternoon testimony from an FBI electronics nerd about a tape recorder germane to the case.
Judge Glass gave the jury a chance to call it a day, but they nodded yes, gave her the thumbs up and told her they could keep going and watched a video taped deposition from another FBI audio expert.
Tomorrow's testimony will include more of the lengthy taped deposition, a police officer and possibly the most colorful character of all - Thomas Riccio.
The chatterbox memorabilia dealer punctuated the preliminary hearing with expletives and wide-eyed expressions.
Riccio allegedly set up the meeting between Simpson and other memorabilia dealers that took the chaotic turn in the Palace Station.