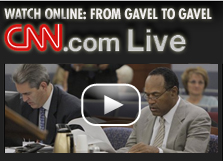 Editor's Note:
O.J. Simpson is on trial for robbery and kidnapping charges nearly a year after police arrested him in Las Vegas, Nevada. Prosecutors say Simpson and five other men stormed into a Las Vegas hotel room last September 13 to recover sports memorabilia that Simpson said belonged to him. They say at least two men with Simpson had guns as they robbed two sports memorabilia dealers. The following dispatches come from our Ted Rowlands covering the trial.
--------------------------–
[cnn-photo-caption image=http://i2.cdn.turner.com/cnn/2008/images/09/16/art.simpson.glass.jpg]
Ted Rowlands
CNN Correspondent
Thanks to Judge Jackie Glass nobody fell asleep today in the OJ Simpson courtroom. (One of the jurors did yesterday).
The judge was on fire!!! Yelling at the attorneys as they complained about each other. From her "sit down" to Simpson's attorney Yale Galanter to her "stop stop stop" to the other attorneys, Glass is proving that this is her courtroom.
One local attorney told me "she's no judge Ito" referring to Lance Ito of OJ trial #1 who many feel lost control. Glass is riding a fine line between keeping control of the courtroom and becoming a distraction, don't be surprised if attorneys start complaining on the record about the way she's treating them in front of the jury.
Bruce Fromong the memorabilia dealer with the bad heart finished up his testimony today, with his wife Lynette by his side he told me after that he feels fine and thinks he was just a bit over heated.
Prosecutors are starting to zero in on what seems to be the real heart of their case...... THE GOLDMANS! Forget everything else, if they can get jurors to believe that Simpson and his memorabilia buddies hid valuables from the Goldmans, OJ may go down.
Stay tuned.