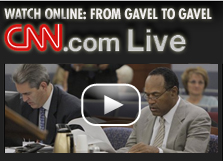 Editor's Note:
O.J. Simpson is on trial for robbery and kidnapping charges nearly a year after police arrested him in Las Vegas, Nevada. Prosecutors say Simpson and five other men stormed into a Las Vegas hotel room last September 13 to recover sports memorabilia that Simpson said belonged to him. They say at least two men with Simpson had guns as they robbed two sports memorabilia dealers. The following dispatches come from our Paul Vercammen covering the trial.
--------------------------–
[cnn-photo-caption image=http://i2.cdn.turner.com/cnn/2008/images/09/16/art.vert.fromong.jpg width=292 height=320]
Paul Vercammen
CNN Senior Producer
8:08am PT:
Key prosecution witness Bruce Fromong entered the Clark County Regional Justice Center this morning showing no signs of illness.
Fromong suddenly stopped testifying yesterday after complaining of chest pains.
The 54-yeard old memorabilia dealer has a history of heart trouble.
O.J. Simpson's lawyer Gabe Grasso is expected to continue his aggressive cross examination of Fromong when the trial resumes.
Simpson entered the courthouse several minutes after Fromong.