Rick Bastien
CNN Media Coordinator
I found Nanc (pronounced 'Nance') on the Galveston seawall, walking her guard dog on the sunny Monday morning after the storm. "Be careful," she warned, "he ain't too friendly." Nanc showed me her truck, where she keeps piles of blankets, biology books, and a mess of other unique items she has collected. Nanc didn't tell me she was homeless, but she said she lives in her truck. She also stayed in her truck in one of the most dangerous locations to be during a hurricane—across the street from the Galveston seawall.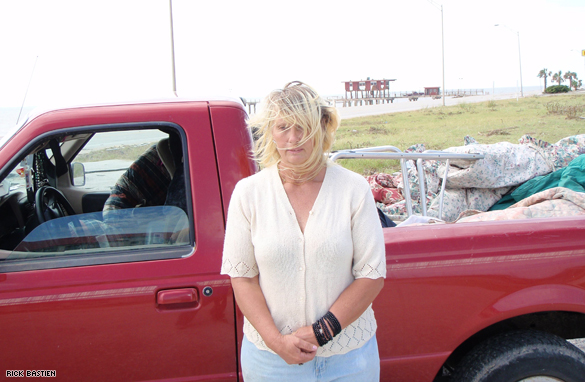 Why didn't she leave? Because she had no money and no where to go and no gas to get there. Nanc is currently a Waffle House waitress, but says she wants to go back to school at UTMB, University of Texas Medical Branch. She was eagerly awaiting payday the week that Ike was swirling in the Gulf of Mexico.
During the storm she says "it turned completely black, you couldn't see five feet in front of you." But Nanc still braved the elements and even left her truck during the storm because she heard a car honking and went to check to see if anyone needed help. She wasn't injured and her car avoided the flood waters; Nanc says she is 'waiting for school to start' now that the storm has passed.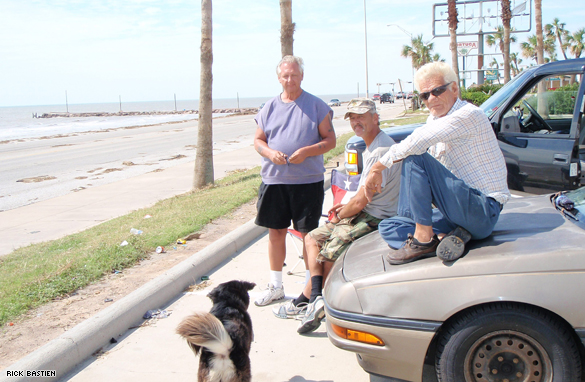 Down the road from where I met Nanc sat three older men in a grocery store parking lot. Larry McCrea and his friends Tim and Mike couldn't tell me much about their homes or where exactly they were from, but the also didn't tell me they were homeless—maybe they are just 'home-free,' the same way Splenda is sugarfree.
The three men reminded me of characters out of a Jack Kerouac novel, wily and eccentric and wholeheartedly American. The three men weren't from Galveston, but decided to come because they've never been through a hurricane before. Larry McCrea thought about leaving, but said that "I talked to God, and he told me to go back."
Larry boasted about surviving the storm, saying, "We spent the night here completely unscathed confronting the storm face to face without any shelter other than our vehicles and we came out completely unscathed."
Larry told me he was a minister, but worked for no church. But he also acknowledged the suffering going on around him, and he asked for both God and the government to step in and make the lives better for the people of Galveston.